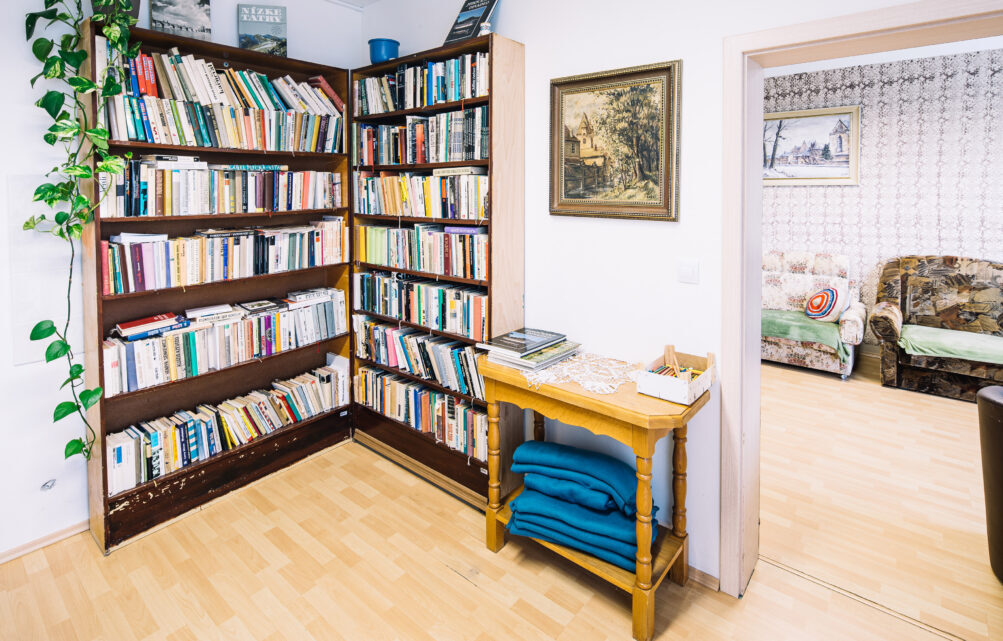 ALZHEIMER HOME České Budějovice
ALZHEIMER HOME
ALZHEIMER HOME is a unique project of linking cutting-edge health and social services in the care of patients with Alzheimer's disease and other types of dementia. Homes across the country are for clients who need the help of another person 24 hours a day, 365 days a year. The mission of ALZHEIMER HOME is to provide comprehensive and individualized residential social services. The professional staff supports the clients' self-sufficiency and active lifestyle, respects their individual habits and preserves their rights and human dignity.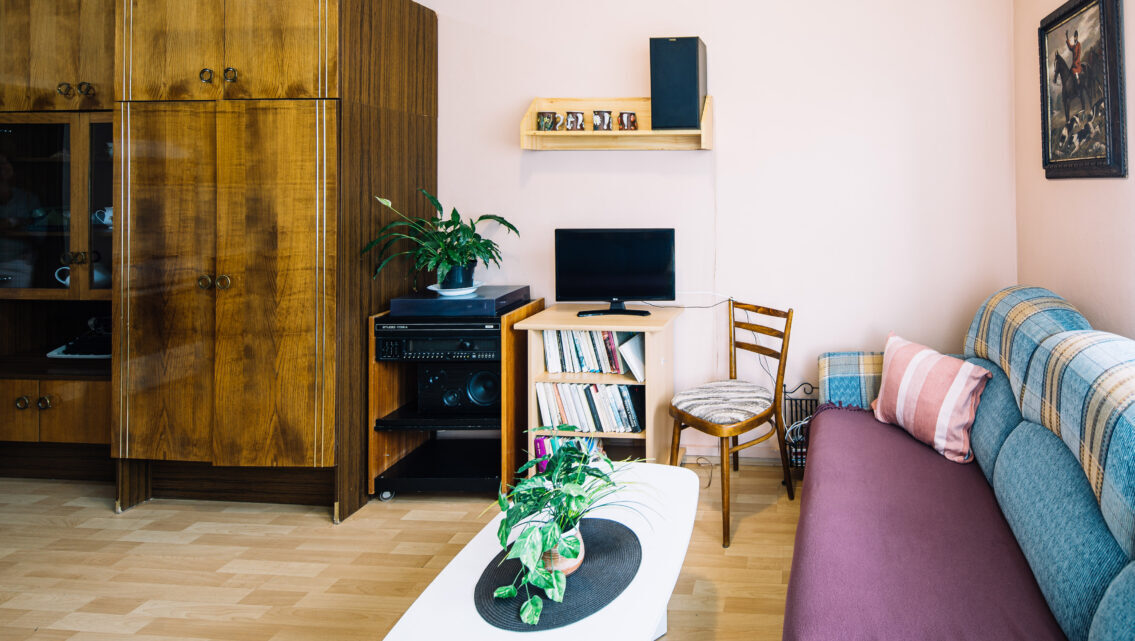 ALZHEIMER HOME České Budějovice
ALZHEIMER HOME České Budějovice is situated in a quiet part of the town, near the Vrbenské Ponds. A large garden with a spacious gazebo offers plenty of space for outdoor activities, walks and sitting. The centre includes a children's group Kulíšek. The presence of children has a positive effect on the psyche of our clients. The children's immediacy puts interest and a smile on their faces, as does the daily presence of the animals involved in pet therapy.
A popular place, especially with women, is the hairdresser, located right in the centre. There is also a general practitioner's office on the premises.
We are a member of the Association of Social Service Providers of the Czech Republic.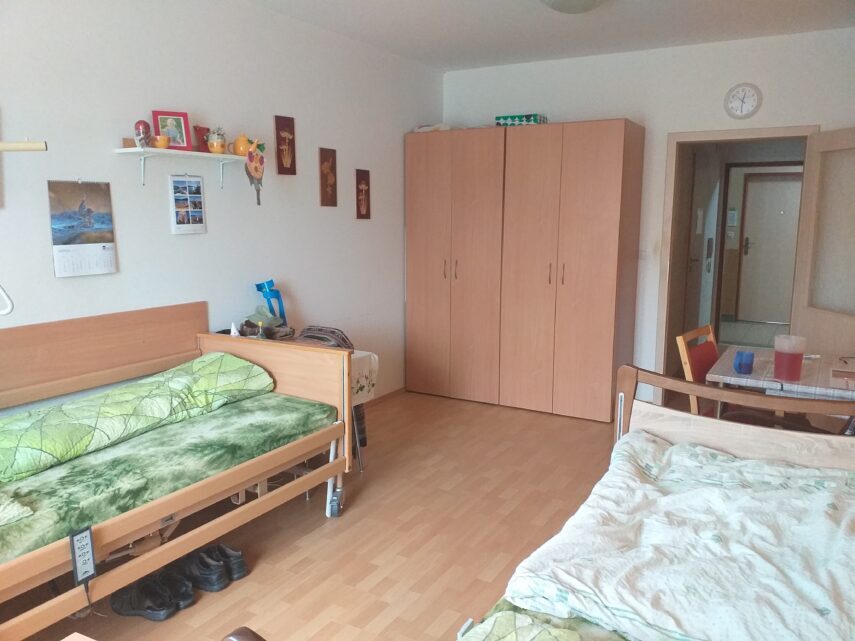 Complete equipment of all rooms
Our clients are accommodated in a pleasant home-like environment in double, exceptionally triple rooms with private bathroom. All rooms are fully equipped, but we offer the possibility of their own retrofitting. The whole area is fully wheelchair accessible.
The capacity of our facility ALZHEIMER HOME České Budějovice is 170 beds.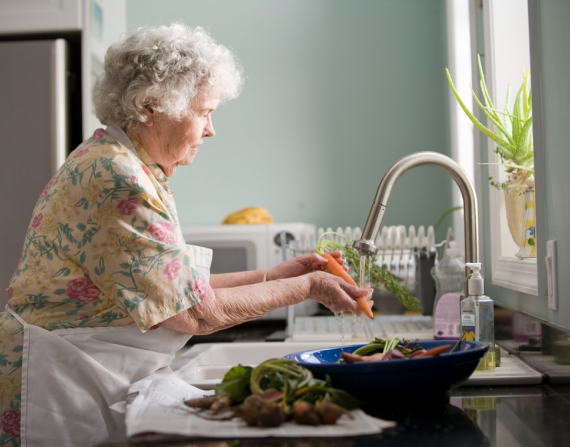 Activation activities
Being active is important at any age. We engage our clients daily in a range of activities that are tailored to each individual. Knowing their habits, interests and personal needs helps us to tailor a mix of activities to make their day enjoyable and enjoyable. Trained staff use a variety of methods and ways of approaching and communicating with clients using basal stimulation and elements of validation. The cornerstones of the activation activities are reminiscence therapy, memory training, music therapy. Specially equipped rooms for rehabilitation, fine and gross motor exercises, aromatherapy and therapeutic cooking and baking are used for activation.
We do not close ourselves off from the world - quite the opposite: We go on trips, to exhibitions and theatres. Children from kindergartens and primary art schools, music and theatre associations regularly give performances for us.
ALZHEIMER HOME České Budějovice
References
Dear Director, Once again, thank you so much for your care and for making your facility work so well. My mother spent 5 years with you and my brother and I were always very pleased with your attitude and care. Even though Mom has communicated very little especially in the last 2 years, she always seemed happy and was always well groomed. It was especially nice when we could always take her out to the ponds in the summer months in a borrowed wheelchair. I bow deeply to your work and wish you many more happy and grateful clients and especially much strength and empathy.

Ing. Pavel Fučík

Dear Mrs. Vlasáková, please allow me to thank all the staff of the 4th floor of ALZHEIMER HOME České Budějovice for their great care, concern and immense dedication in treating my mother-in-law. Even though she has not communicated much (actually not at all) during the whole hospitalization and especially in the last years, she looks very happy during every visit and is always well-groomed. I appreciate immensely the work and empathy all the staff give to your clients. I would hate to leave anyone out of those who care for my mother-in-law, so at least a big thank you to Petra Kocmanová, Lenka Krskošková and Martin Vandas for all of them. I bow deeply to the work of all your staff and wish you many happy clients. P.S. While writing this thank you, I was informed that my mother-in-law has left us forever. Please thank the entire staff again for all their care, concern and very sensitive communication of this sad event. České Budějovice 26.2.2023

Jiri D.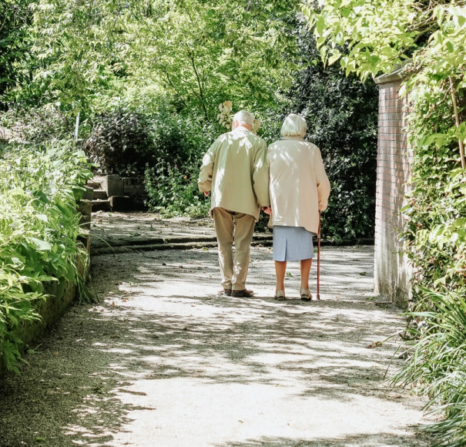 ALZHEIMER HOME České Budějovice
How to become a client
ALZHEIMER HOME České Budějovice
Husova Třída 1651/125A, 370 11 České Budějovice
+420 773 377 054
ALZHEIMER HOME České Budějovice
Documents
Important documents to download.
ALZHEIMER HOME České Budějovice
Contact
ALZHEIMER HOME České Budějovice
Contacts - nurses' station
ALZHEIMER HOME České Budějovice
Where to find us