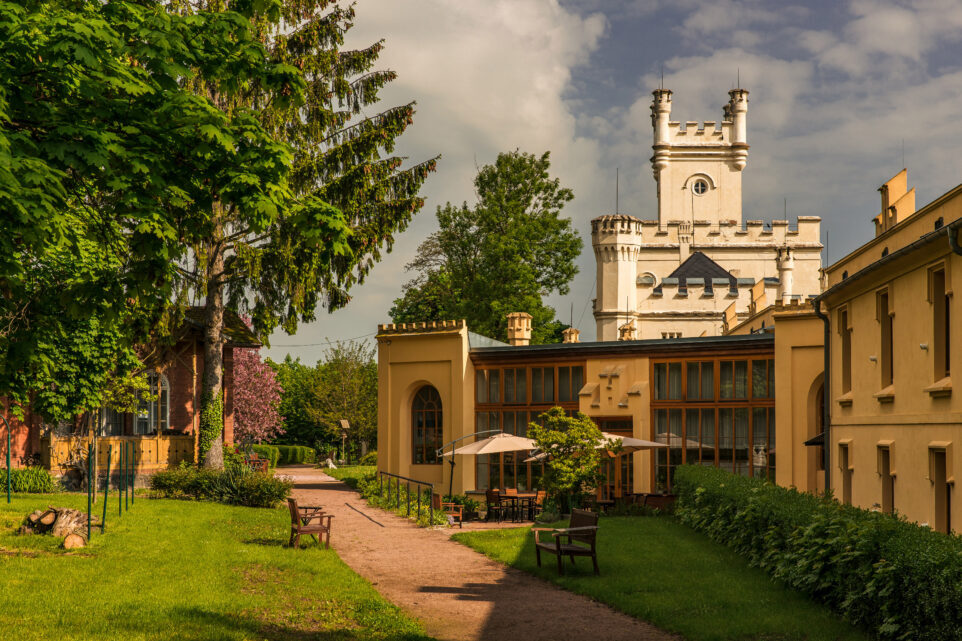 ALZHEIMER HOME Filipov
ALZHEIMER HOME
ALZHEIMER HOME is a unique project of linking cutting-edge health and social services in the care of patients with Alzheimer's disease and other types of dementia. Homes across the country are for clients who need the help of another person 24 hours a day, 365 days a year. The mission of ALZHEIMER HOME is to provide comprehensive and individualized residential social services. The professional staff supports the clients' self-sufficiency and active lifestyle, respects their individual habits and preserves their rights and human dignity.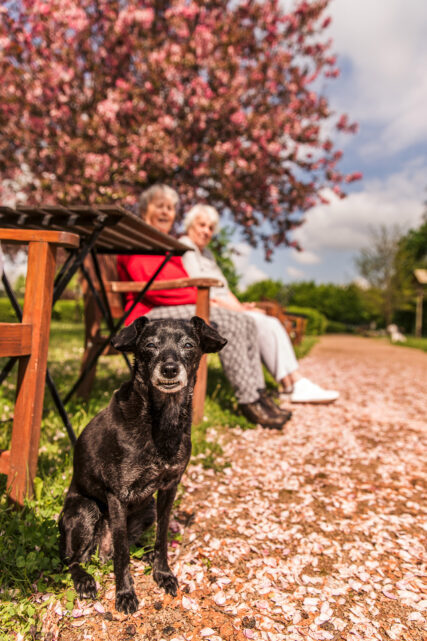 ALZHEIMER HOME Filipov
ALZHEIMER HOME Filipov can be found near Čáslav. The recent overall modernization has enabled an increase in the level and quality of care provided.
The building, reminiscent of the Hluboká Chateau, lends our centre its unmistakable charm, as does the diversity of the landscape where the Iron Mountains and the flat Polabí region meet. Walking in the park, which is part of the centre, is made more interesting by the Dutch dwarf goats from our zoo corner.
Complete equipment of all rooms
Our clients are accommodated in a pleasant home-like environment in double to triple rooms with private bathroom. All rooms are fully equipped, however we offer the possibility of their own retrofitting. The whole area is fully wheelchair accessible.
The capacity of our facility ALZHEIMER HOME Filipov is 95 beds.
Activation activities
Being active is important at any age. We engage our clients daily in a range of activities that are tailored to each individual. Knowing their habits, interests and personal needs helps us to tailor a mix of activities to make their day enjoyable and enjoyable. Trained staff use a variety of methods and ways of approaching and communicating with clients using basal stimulation and elements of validation.
The cornerstones of the activation activities are reminiscence therapy, memory training and music therapy. Specially equipped rooms for therapeutic gymnastics, massages, aromatherapy are also used for activation. In addition, canister therapy dogs visit us every week.
We don't close ourselves off from the world - quite the opposite: we go on trips and exhibitions, some clients attend the University of the Third Age, a pastor and a priest visit the centre.
ALZHEIMER HOME Filipov
References
Ladies and gentlemen! Mrs. Jaroslava from Kolín stayed in your facility. It was not an easy and simple matter for our family to remove her from her family environment, but unfortunately it was the only best and necessary alternative for her further life. However, with all the misfortune, we were lucky enough to be able to place her with you. However, she has not been able to enjoy many things and appreciate the advantages of staying with you properly. We, however, have become increasingly aware of how well she is cared for and that we really could not have chosen better. Whether it was the meals, the accommodation, the care from the staff and at the beginning the freedom to move around the building and garden and other possible activities and services. We realised how well you do it most when, after about a year, a little worried about how she would react, we took Mum home to Cologne to her beloved garden, where we made coffee and cakes in beautiful weather. After asking how she liked it, she said, "I want to go home." We were a little surprised, but had to state with some regret that home for her was not in Cologne, but in Philippi, and that was a good thing. Fate has ended our mother's stay in your home, and we have no choice but to thank you most sincerely on behalf of our entire family and wish you every success and happy clients in your meritorious work.

Bohuslav K.

Dear Mrs. Koutová, I would like to thank you all for taking care of my mother, Mrs. Blanka. I am very pleased that every visit she is well-groomed, well-groomed, smiling. Thank you very much to all the staff, everyone is always smiling, kind, helpful, patient. Not only during visits but also on the phone. Someone from the staff always helps my mother with the phone calls. It's admirable with such a hard, strenuous and demanding job in caring for clients (physical and mental) to always be in good spirits. And doing extra work - washing the mobile phone case, describing the rabbit that Mummy is always with at night ........ We all have a good feeling about the atmosphere at home - you can tell a good workplace climate, it's certainly a credit to the management. On Sunday we had mum at home for a while, she was happy. She asked what time she was going back home. She's at home with you and that's a nice message for us. On her return, the carer again received her with a smile. Mum also praised the kitchen. In terms of hygiene, the care is also of a very high standard. I wish you all good health, peace and well-being. Blanka K.

Blanka K.

Srdečně děkujeme všem, kteří se starali o naši maminku a až do její poslední chvilky ji věnovali vzornou péči. Velice si vážíme Vašeho trpělivého a vnímavého přístupu a vaší energie, kterou klientům věnujete, aby se u Vás cítili dobře a téměř jako doma. S úctou Josef P.

Josef P.

Vážená paní ředitelko, chtěla bych touto cestou poděkovat nejen Vám, ale i všem zaměstnancům Filipova. Není snadné najít ta správná slova, když odejde někdo blízký a zůstane velké prázdné místo. Ale ono není tak prázdné – je plné smutku, bolesti a pochybností, zda jste udělali maximum. Díky Vám jsem těchto pochybností ušetřena. Maminka ve Filipově strávila deset let a devět dní a musím přiznat, že zpočátku byly mé pocity smíšené. Chtěla jsem jí být na blízku, ale nikdy bych nebyla schopná dát jí takovou péči, jaké se jí dostalo u Vás. Sama nejlíp vím, že nebylo snadné vyhovět jejím požadavkům. Práce celého Vašeho týmu vyžaduje velkou dávku trpělivosti, různých odborných znalostí a v neposlední řadě i fyzických schopností. Pro nás, blízké Vašich klientů, je také velmi důležitá Vaše snaha, aby jim zákeřná nemoc nevzala poslední zbytky důstojnosti. Přála bych všem ostatním, aby měli to štěstí a mohli své blízké svěřit do Vaší laskavé péče. Bohužel Vaše kapacita není neomezená. Vám všem bych chtěla vyjádřit velký obdiv a poděkování.

Monika M.

Vážená paní ředitelko, vážení zaměstnanci, rádi bychom Vám prostřednictvím následujících řádků vyjádřili poděkování za péči o naši maminku Marii, která strávila poslední léta svého života právě ve Vašem zařízení –  Filipov. Velice příjemně a klidně působí již samotné místo, ve kterém se Vaše zařízení nachází. Historickou budovou v klidné lokalitě zámeckého parku Filipov jste dokázali proměnit útulné domácké prostředí, které je citlivě přizpůsobeno k dlouhodobému pobytu starších lidí v různém stádiu nemoci. Dovolte nám, abychom upřímně poděkovali celému kolektivu za dlouhá léta poskytovanou obětavou a starostlivou péči o naši maminku. Velké dík všem sestřičkám, ošetřovatelkám i ošetřovatelům za ochotu a snahu, kterou jí po celou dobu věnovaly. Moc si ceníme jejich náročné, namáhavé a vyčerpávající práce a jsme opravdu moc rádi, že maminka mohla strávit poslední okamžiky svého života právě zde, a ne v nemocnici. Ještě jednou děkujeme Vám všem, od vedení, přes ošetřující personál v kuchyni i lidem, kteří se starají o údržbu celého objektu. Přejeme Vám, abyste si i nadále udrželi pozitivní přístup, motivaci, entuziasmus i dostatek empatie, což Vám pomůže pečovat a starat se o klienty i nadále na takto vysoké úrovni. Snad Vás potěší, že z pohledu naší rodiny považujeme za štěstí, že naše maminka mohla svá poslední léta nemoci strávit právě ve Vašem zařízení. Naše vzpomínky na ni budou vždy spojeny i s Vámi. Děkujeme … Ivana F. s rodinou, David H. s rodinou

Ivana F. s rodinou, David H. s rodinou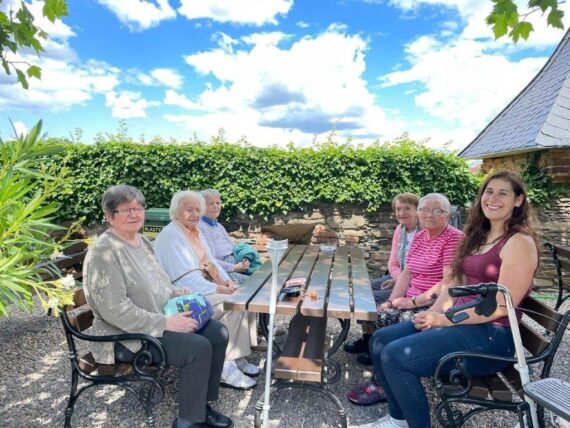 ALZHEIMER HOME Filipov
How to become a client
ALZHEIMER HOME Filipov
Zámecká 1/25, 286 01 Čáslav
+420 737 810 315
ALZHEIMER HOME Filipov
Documents
Important documents to download.
ALZHEIMER HOME Filipov
Contact
ALZHEIMER HOME Filipov
Contacts - nurses' station
ALZHEIMER HOME Filipov
Where to find us