ALZHEIMER HOME Černošice
ALZHEIMER HOME
ALZHEIMER HOME is a unique project of linking cutting-edge health and social services in the care of patients with Alzheimer's disease and other types of dementia. Homes across the country are for clients who need the help of another person 24 hours a day, 365 days a year. The mission of ALZHEIMER HOME is to provide comprehensive and individualized residential social services. The professional staff supports the clients' self-sufficiency and active lifestyle, respects their individual habits and preserves their rights and human dignity.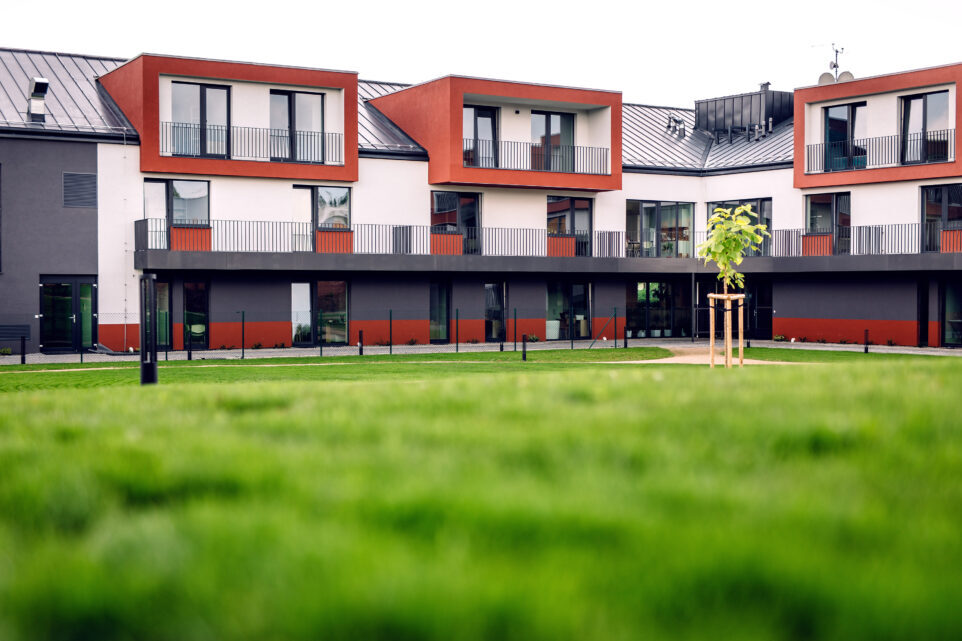 ALZHEIMER HOME Černošice
ALZHEIMER HOME Černošice is located in a quiet residential area with a charming view of the Brda forests near the Berounka River. The modern facility meets the demanding requirements for care while providing clients with a quiet and comfortable living. The centre includes a large garden, used for leisure activities as well as for walks or sitting.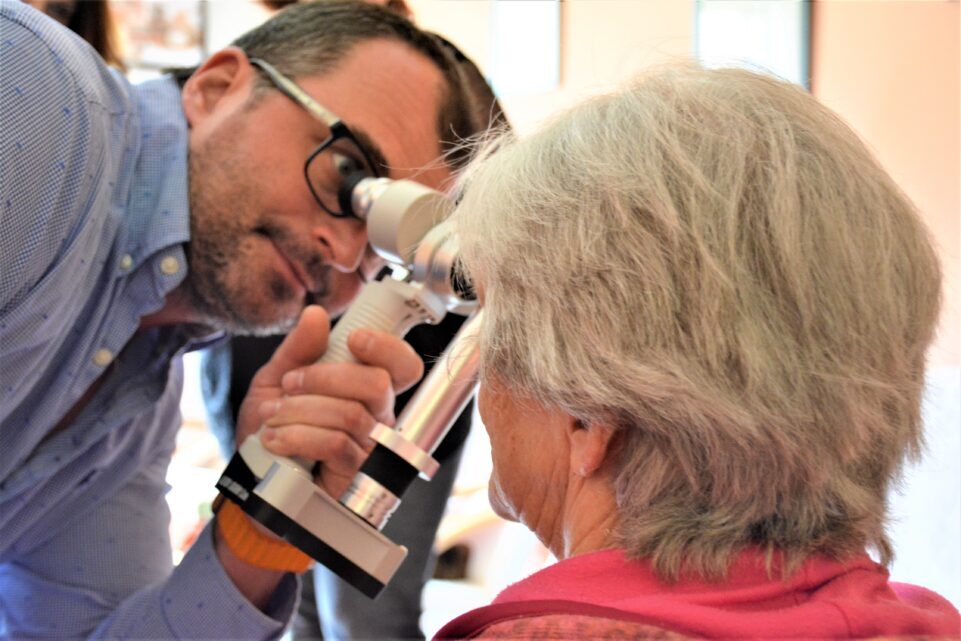 Healthcare
Our clients are provided with quality health services covering basic specialties that help to optimally diagnose and treat all common health problems and prevent them. There is a well-equipped medical department. Wherever possible and practical, clients are thus provided with examinations and outpatient treatment directly at the facility. Our collaborators are top specialists in general practice, psychiatry or other fields. We have a sophisticated system of medical visits and regular preventive checks of the mental and physical condition of our clients. Thanks to this, we are able to catch any change in health status and immediately adjust the medical, nursing and dietary regimen.
ALZHEIMER HOME is part of the Penta Hospitals group. Penta Hospitals operates a network of hospitals and specialist outpatient clinics in the Czech Republic and it is our natural intention to offer our clients and families better and more comprehensive healthcare services in the future with this unique combination. It is for this reason that Ambulance Penta s.r.o. (from the Penta Hospitals group) is gradually becoming a new healthcare provider in our facilities in the field of general general practice and in selected areas of specialised outpatient care.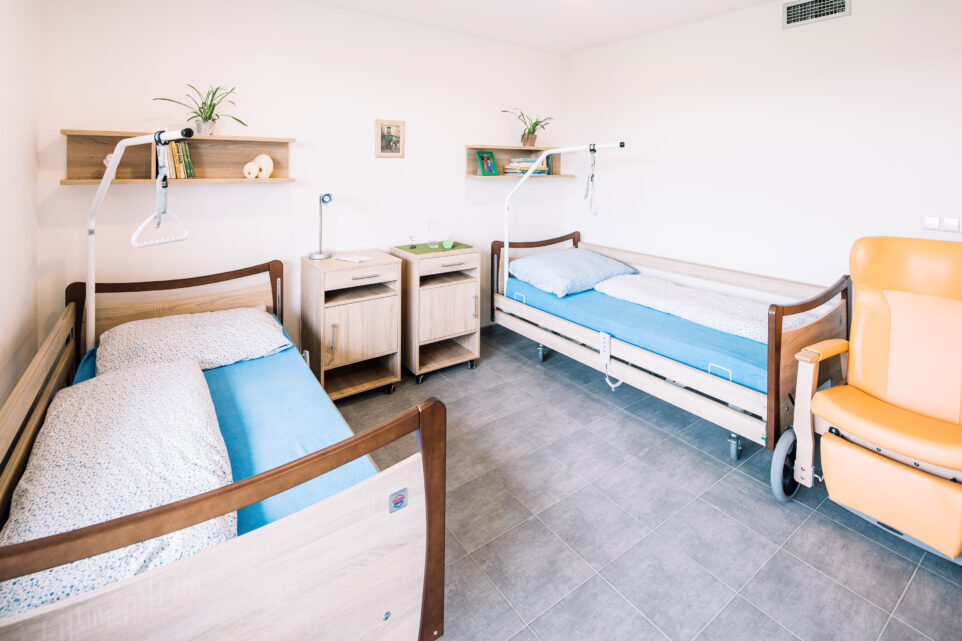 Complete room fixtures and fittings
Our clients are accommodated in a pleasant home-like environment in double rooms with private bathroom. All rooms are fully furnished, yet we offer the possibility of their own retrofitting with small items. There is a spacious dining room and common rooms. The facility includes a therapeutic garden for outdoor walks and relaxation. The whole area is of course fully wheelchair accessible.
ALZHEIMER HOME Černošice
Capacity of the home
Activation activities
Being active is important at any age. We engage our clients daily in a range of activities that are tailored to each individual. Knowing our clients' habits, interests and personal needs helps us to tailor a mix of activities to make their day enjoyable and enjoyable. Our trained staff use a variety of methods and ways of approaching and communicating with the client using basal stimulation and elements of validation.
The cornerstones of the activation activities are reminiscence therapy, memory training and music therapy. Specially equipped rooms for therapeutic gymnastics and yoga classes, fine and gross motor exercises, aromatherapy and therapeutic cooking and baking are also used for activation. In addition, canister therapy dogs visit us every week.
A very popular activity, especially among women, is to visit a hairdresser or pedicurist. There is a café and a pastry shop within walking distance of the centre, one of the possible destinations for trips. As a visitor, you will appreciate the good transport links by train and bus.
We regularly organize a ladies' and men's club as part of our activation activities, where we discuss classic female joys and worries, put on make-up, relax with a face mask or paint our nails. The men, undisturbed by the women, discuss sports, politics and other purely male topics.
ALZHEIMER HOME Černošice
References
Hello, I would like to thank you for taking care of my mother, Mrs. Jiřina, who spent the final period of her life with you. The decision to leave the care of my mother to a social services facility was not an easy one. However, during my visits, I was often aware of my gratitude that she was being cared for in the best way possible given her medical condition. I greatly appreciated the kind and patient attitude of the ALZHEIMER HOME team and their efforts to preserve the dignity of her life until the end. I wish you all the best and my heartfelt greetings to I.W. (February 2023)

I.W.

Hello, I would like to thank you for taking care of my mother, Mrs. Marcela, who was a client of the Alzheimer Home in Černošice. The decision to leave the care of my mother to a professional facility was not an easy one. Thanks to the staff led by the director Venus Gollanova, my mother was in good hands. She spent the rest of her life in the pleasant environment that your facility provides. The activation programme and the helpful staff helped her a lot. Mum was happy and satisfied and that was the most important thing for both of us. I very much appreciate the care that your facility provides. The work you do is a mission and you do it with your heart. Thank you so much for that. I wish you the best of luck in the years to come. Yours sincerely

E.V.

Dear Director! Let me express my thanks and appreciation for your helpful and kind approach and for your management of the whole ALZHEIMER HOME Černošice facility. You know that I can compare and so I dare to say that the positive atmosphere that prevails in Černošice is mainly your merit. It is incredible what the environment and the care of your staff has done for our mother's physical and mental state. She has blossomed. But even the visit itself is a pleasant affair. I have never seen so many smiles and happy clients before. Therefore, I thank you on behalf of the whole family and this thanks and appreciation goes to your staff, not excluding anyone. They are great! Sincerely, Karel Košan

Karel Košan
ALZHEIMER HOME Černošice
Video
ALZHEIMER HOME Černošice
Virtual tour
ALZHEIMER HOME Černošice
Partners
ALZHEIMER HOME Černošice
How to become a client
ALZHEIMER HOME Černošice
Oružinová 728, 252 28 Černošice
Call us: +420 604 366 496
ALZHEIMER HOME Černošice
Kontakty - 7:00 - 15:30
ALZHEIMER HOME Černošice
Contacts - nurses' station
ALZHEIMER HOME Černošice
Where to find us