ALZHEIMER HOME Jasmine
ABOUT ALZHEIMER HOME
ALZHEIMER HOME is a unique project of linking cutting-edge health and social services in the care of patients with Alzheimer's disease and other types of dementia. Homes across the country are for clients who need the help of another person 24 hours a day, 365 days a year. The mission of ALZHEIMER HOME is to provide comprehensive and individualized residential social services. The professional staff supports the clients' self-sufficiency and active lifestyle, respects their individual habits and preserves their rights and human dignity.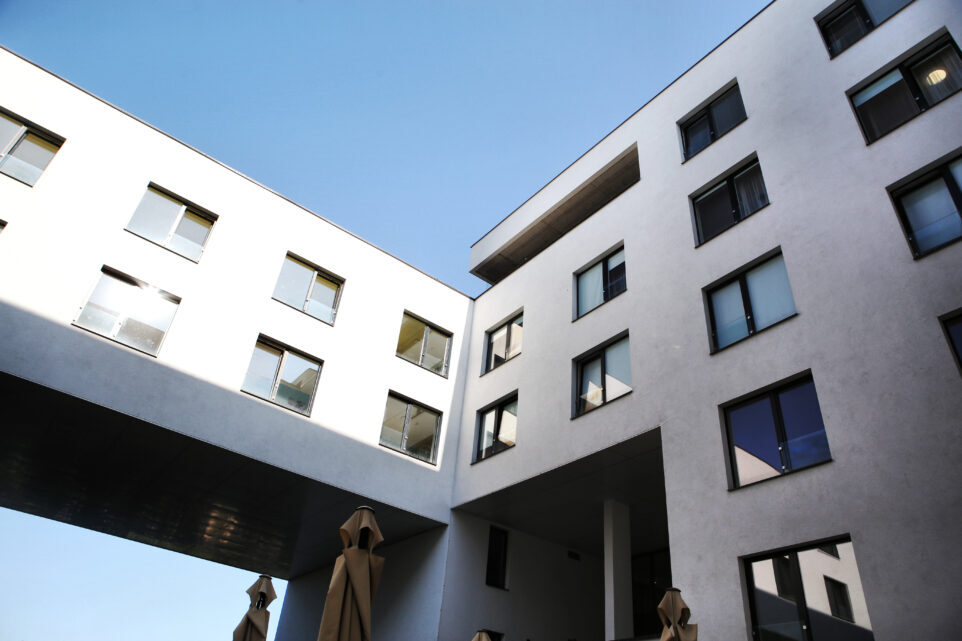 ALZHEIMER HOME Jasmine
ALZHEIMER HOME Jasmín is part of the modern Jasmín Residence, which provides residential housing for the elderly and a range of quality services for its residents and visitors. The complex includes a general practitioner's office, outpatient specialists, a physiotherapy clinic, a café with a restaurant, a children's play area, a library, a large atrium and a private park.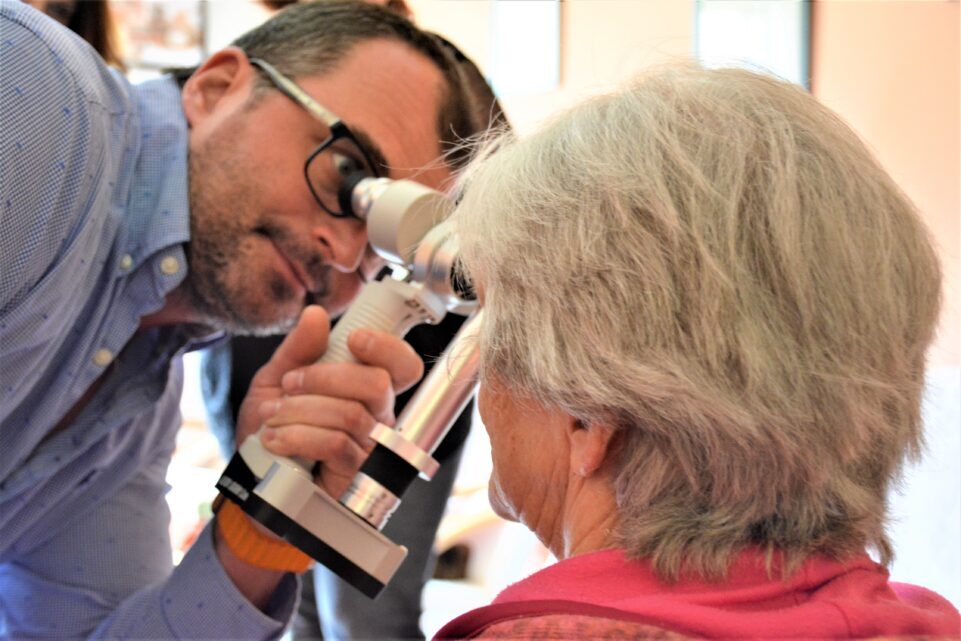 Healthcare
Our clients are provided with quality health services covering basic specialties that help to optimally diagnose and treat all common health problems and prevent them. There is a well-equipped medical department. Wherever possible and practical, clients are thus provided with examinations and outpatient treatment directly at the facility. Our collaborators are top specialists in general practice, psychiatry or other fields. We have a sophisticated system of medical visits and regular preventive checks of the mental and physical condition of our clients. Thanks to this, we are able to catch any change in health status and immediately adjust the medical, nursing and dietary regimen.
ALZHEIMER HOME is part of the Penta Hospitals group. Penta Hospitals operates a network of hospitals and specialist outpatient clinics in the Czech Republic and it is our natural intention to offer our clients and families better and more comprehensive healthcare services in the future with this unique combination. It is for this reason that Ambulance Penta s.r.o. (from the Penta Hospitals group) is gradually becoming a new healthcare provider in our facilities in the field of general general practice and in selected areas of specialised outpatient care.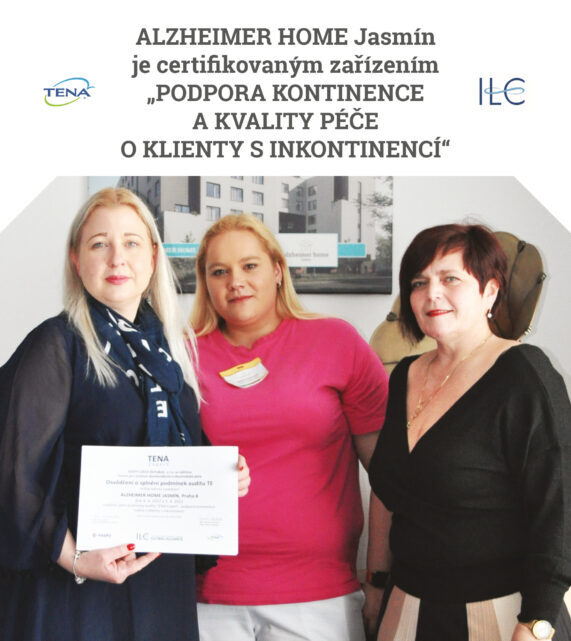 Successful continence support audit
In April 2022, ALZHEIMER HOME Jasmín successfully passed the audit "AUDIT OF CONTINENCE SUPPORT AND QUALITY OF CARE FOR CLIENTS WITH INCONTINENCE" under the auspices of the CENTRE FOR THE STUDY OF LONG-TERM CARE Doc. MUDr. Iva Holmerová PhD.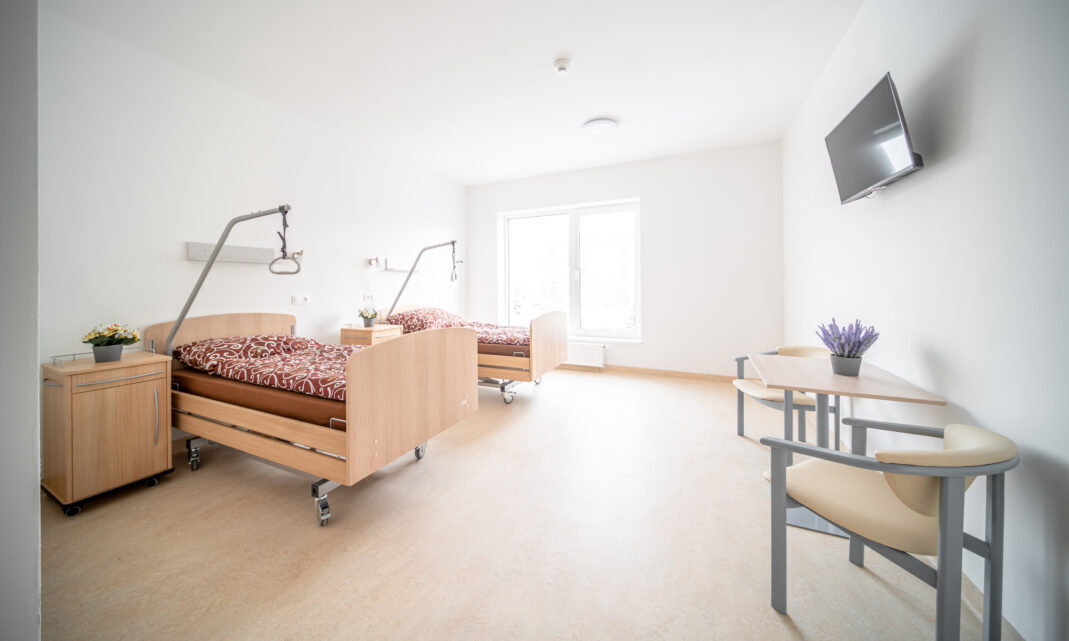 Complete equipment of all rooms
Our clients are accommodated in a pleasant home environment in single, double and triple rooms of various categories with private bathroom. All rooms are fully equipped, yet we offer the possibility of their own retrofitting. There are spacious lounge and therapy rooms with a dining room. There is an enclosed atrium and terrace for walking and relaxing. The whole area is fully wheelchair accessible.
An integral part of the centre is also RESTAURANT CAFEwhere we offer quiet seating and delicious, affordable specialties and desserts.
ALZHEIMER HOME Jasmine
Capacity of the home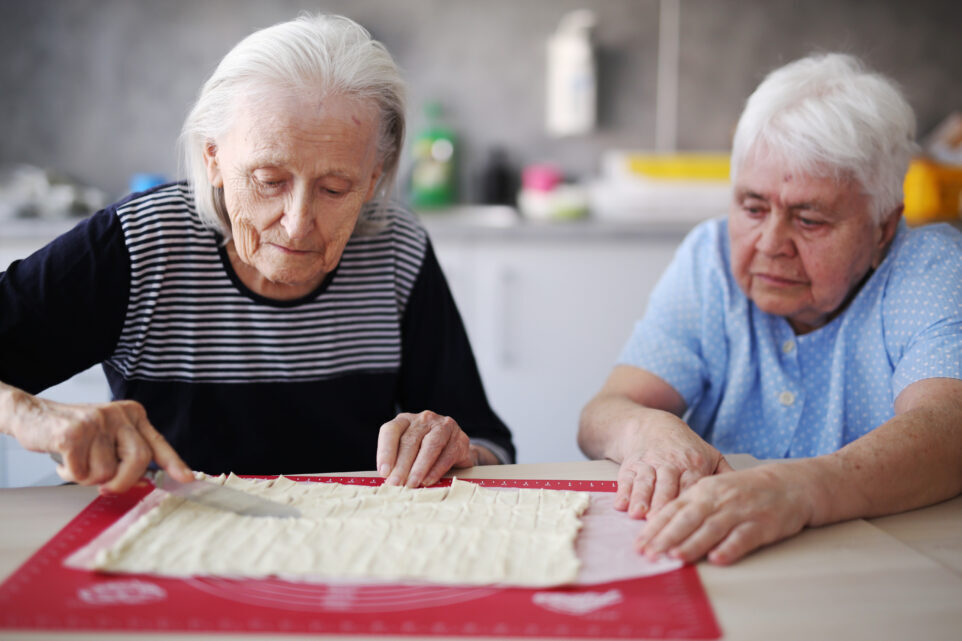 Activation activities
Being active is important at any age. We engage our clients daily in a range of activities that are tailored to each individual. Knowing our clients' habits, interests and personal needs helps us to tailor a mix of activities to make their day enjoyable and enjoyable.
The cornerstones of the activation activities are reminiscence therapy, memory training and music therapy. Specially equipped rooms are also used for activation.
We also have a bus available, so we can go on a trip outside of Prague, which we always enjoy very much.
Therapeutic procedures of quality care are provided by the method of Basal Stimulation, Reminiscence Therapy and other concepts that help to maintain the quality of life of clients at the highest possible level.
We are also often visited by children, for example from the nearby Youth Home. They always prepare an interesting program for our clients.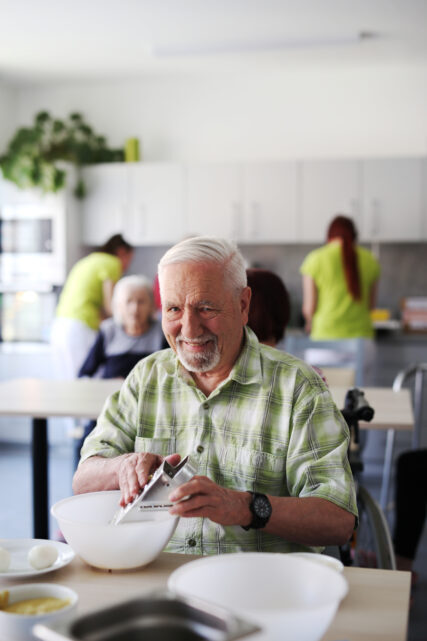 Examples of therapeutic activities
Basal stimulation
Basal stimulation is a nursing care concept commonly used in Western European countries. Our Home works on the basis of the concept of basal stimulation and thus significantly improves the quality of client care and brings it to a completely different level than is common or generally known. This model of our care distances itself from the generally established practices, does not "preserve" the client's condition, but develops and stimulates it. Basally stimulating care is not performed on the client, but is shaped within the limits and abilities of the client and the caregiver. Care must become an experience, not an unpleasant experience. The client is an equal partner, a person with his or her own history and individuality. We offer the client sensations that he or she can decide whether or not to accept. Touch is very important in our care. Touch is a basic human ability. We support all levels of his perception, activating his brain activity based on long-term memory pathways and stimulation of the sensory organs.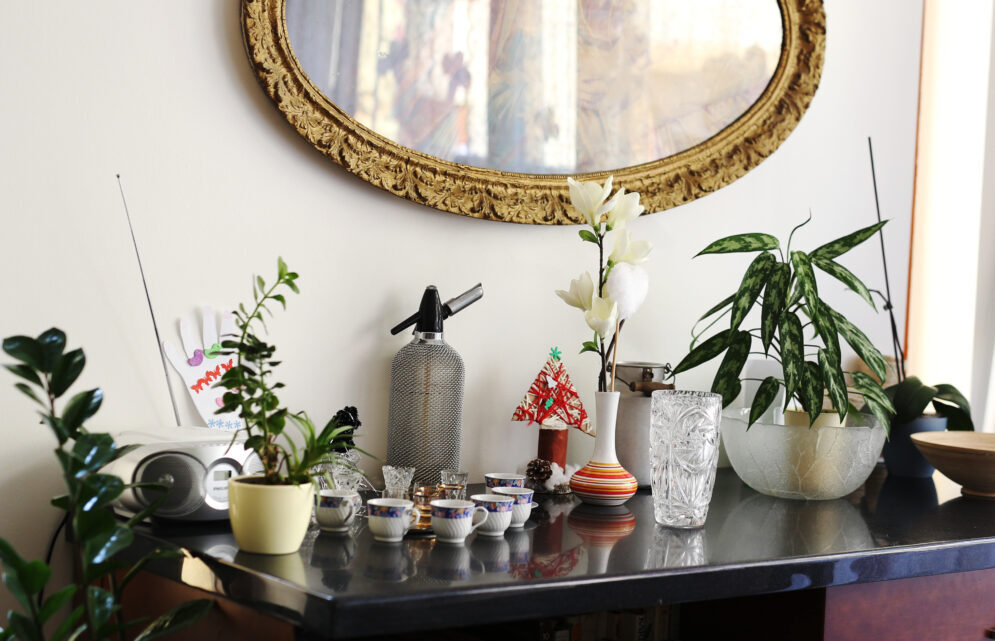 Reminiscence therapy
Reminiscence therapy is based on the recognition that the knowledge, memories and habits that are fixed in long-term memory remain in the brain the longest. Clients bring small objects, photographs, pictures, certificates, medals, and other items that were once part of their lives to the Home. A so-called memory case and album is compiled from these objects and worked with with the help of a reminiscence therapist. Reminiscence therapy doesn't just draw on memory albums or briefcases. It is a whole range of therapy based on long-term memory pathways, which includes so-called reminiscence. Memories of the lives lived by clients or their loved ones are written down and are part of the briefcases and the therapy. We draw from them information about our clients and can work much more effectively with the client because we know at least a little about their life history.
ALZHEIMER HOME Jasmine
References
Hello, let me thank you for the opportunity to place my mother in ALZHEIMER HOME jasmine. The home is pleasant, sunny, spacious, we are very satisfied with the care, the nurses are kind and helpful. The food is excellent. I wish you a wonderful day D.S.

D.S.

Dear Director, I would like to express my thanks and admiration for you and the work you do. Your facility has impressed me in a very pleasant, homely and safe way. I see your attitude and the time you have given me as a fact that you must "love" your job. If our situation requires assistance from you, I would be happy to be able to contact you. Sincerely

J.S.

Dear Director, on behalf of our whole family, please accept this thank you for the admission and hospitalization of our mother in your ALZHEIMER HOME Jasmín in August this year. Our mother was fully satisfied with both the health care and social care throughout her stay in your facility. We also greatly appreciated the organization of daily activity sessions, which enriched the quality of Mom's stay in your home. We are also pleased to highlight the high quality of the accommodation and meals. Unfortunately, due to family reasons, we were forced to end the stay of my mother in your home after a relatively short period at the beginning of September this year. However, even in this short period, we greatly appreciated the active approach of you and your colleagues from the social and medical department, which had a positive impact on the quality of life of our mother in her complicated period of life. Thank you again and best regards (October 2023)

H's family.
ALZHEIMER HOME Jasmine
How to become a client
ALZHEIMER HOME Jasmine
Řešovská 852/10, 181 00 Prague 8
+420 604 366 496
ALZHEIMER HOME Jasmine
Newsletter
Important documents to download.
ALZHEIMER HOME Jasmine
Contact
ALZHEIMER HOME Jasmine
Contacts - nurses' station
ALZHEIMER HOME Jasmine
Where to find us