ALZHEIMER HOME Jihlava
ALZHEIMER HOME
ALZHEIMER HOME is a unique project of linking cutting-edge health and social services in the care of patients with Alzheimer's disease and other types of dementia. Homes across the country are for clients who need the help of another person 24 hours a day, 365 days a year. The mission of ALZHEIMER HOME is to provide comprehensive and individualized residential social services. The professional staff supports the clients' self-sufficiency and active lifestyle, respects their individual habits and preserves their rights and human dignity.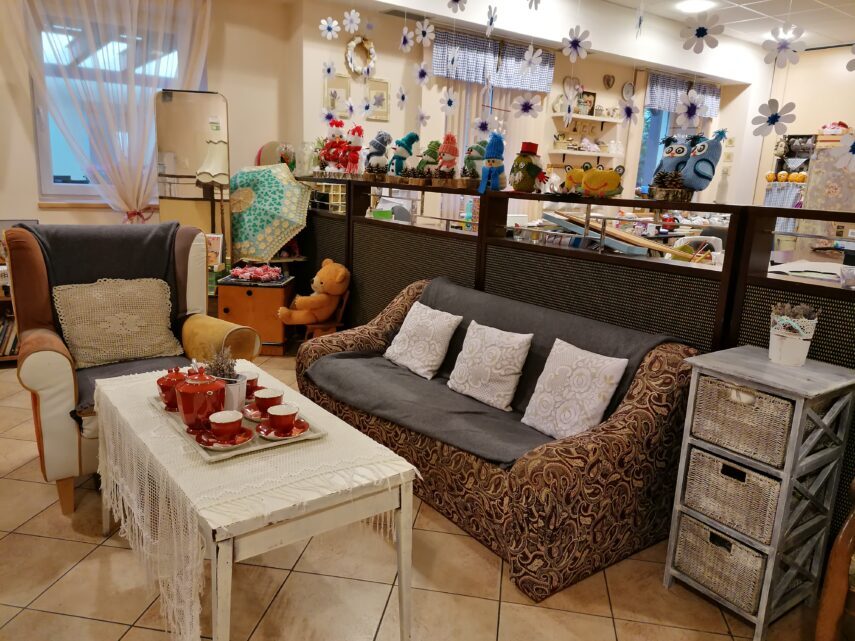 ALZHEIMER HOME Jihlava
ALZHEIMER HOME Jihlava is located near the city center, surrounded by greenery, in close proximity to the river Jihlava. The centre is wheelchair accessible. The common areas and the covered atrium offer clients a variety of places to relax, spend time with loved ones, as well as numerous activities.
The intergenerational connection in the centre works thanks to the Ježeček Children's Group. The children participate together with the clients in the activities organized in the centre and outside. Their presence has a positive effect on the psyche of the clients, the children's immediacy evokes interest and a smile on their faces.
We are the contact point of the Czech Alzheimer's Society in memory testing for the general public and a proud holder of the Vážka certificate, guaranteeing the highest quality of care.
Complete equipment of all rooms
Our clients are accommodated in a pleasant home environment in single and double rooms with private bathroom. All rooms are fully equipped, yet we offer the possibility of their own retrofitting. The whole area is fully wheelchair accessible.
The capacity of our ALZHEIMER HOME Jihlava facility is 95 beds.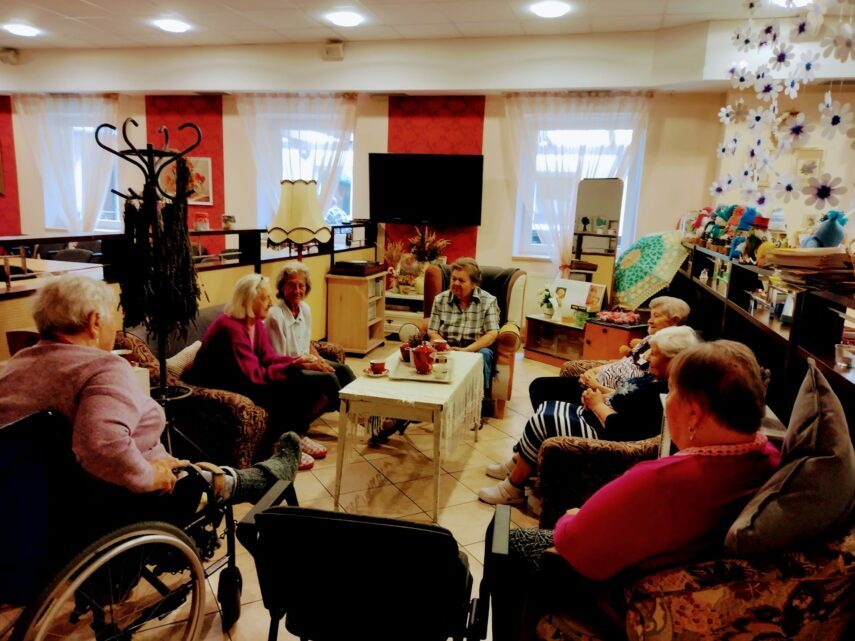 Activation activities
Being active is important at any age. We engage our clients daily in a range of activities that are tailored to each individual. Knowing our clients' habits, interests and personal needs helps us to tailor a mix of activities to make their day enjoyable and enjoyable. Our trained staff use a variety of methods and ways of approaching and communicating with the client using basal stimulation and elements of validation.
The cornerstones of the activation activities are reminiscence therapy, memory training and music therapy. A multisensory room called the Snoezelen, rehabilitation, fine and gross motor exercises, aromatherapy, therapeutic cooking and baking, as well as the production of seasonal decorations and gifts in the form of handicrafts are also used for activation. In addition, canister therapy takes place regularly at the centre.
We do not close ourselves off from the world - quite the opposite: we go on trips, exhibitions and theatres, we organize music, singing, dancing and recitation performances. Volunteers help us with many events.
ALZHEIMER HOME Jihlava
References
I would also like to thank and express my admiration to all of you for your care and patience with your clients. My wife and I had the opportunity to admire the work of your staff almost every day for two months, with what love and understanding they care for about 90 clients. I truly bow down, not everyone can do this job. Thank you.

S family.

Hello, since there is no hope for improvement of the disease, we will be happy if grandma will live the rest of her life in a community and environment where she will receive proper care, which we as a family are not able to provide for grandma and she will be able to live with dignity and enjoy her time with you. We knew on our first visit that we had made the right decision. We saw the attitude and demeanor you have towards the people there. Yesterday's reception just confirmed that. We know that you certainly don't have it easy and we would like to thank you all again for your care and your positive mood.

S.S.

Medical science is at such a level that it can extend a person's life, but often at the expense of quality of life. That's why there must be centres of assistance that help to live that life a little bit. We wanted to thank the entire staff, from the director, to the administration, to the cooks, nurses, caregivers and other support staff, for taking care of people like J.D. We really appreciate what you do for them. We believe it is a stressful and demanding job, so we would like this thank you to be read out at some meetings so that it reaches all the staff at the Jihlava Centre. Thank you to all of you who helped us care for our grandmother, great-grandmother and great-great-grandmother J.D. C. Family 24 hours a day.

Family C (Jihlava)

Hello dear staff of the centre, I have no words to express our thanks for your care and concern for our aunt. We are very grateful to all of you and we admire you immensely for managing such a difficult job with a smile and peace of mind that you pass on to your clients and their family members. H.H. and her husband

H.H. (Jihlava)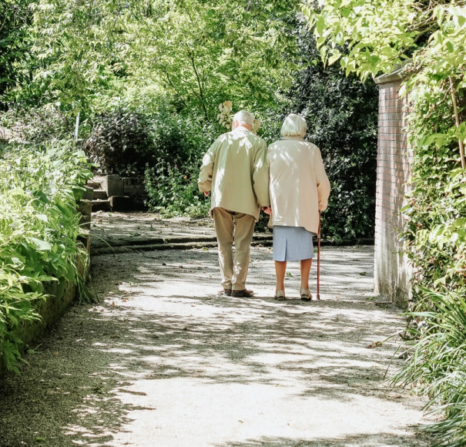 ALZHEIMER HOME Jihlava
How to become a client
ALZHEIMER HOME Jihlava
Romana Havelka 13, 586 01 Jihlava
ALZHEIMER HOME Jihlava
Partners
ALZHEIMER HOME Jihlava
Documents
Important documents to download.
ALZHEIMER HOME Jihlava
Contact
ALZHEIMER HOME Jihlava
Contacts - nurses' station
ALZHEIMER HOME Jihlava
Where to find us