ALZHEIMER HOME Pardubice
ALZHEIMER HOME
ALZHEIMER HOME is a unique project of linking cutting-edge health and social services in the care of patients with Alzheimer's disease and other types of dementia. Homes across the country are for clients who need the help of another person 24 hours a day, 365 days a year. The mission of ALZHEIMER HOME is to provide comprehensive and individualized residential social services. The professional staff supports the clients' self-sufficiency and active lifestyle, respects their individual habits and preserves their rights and human dignity.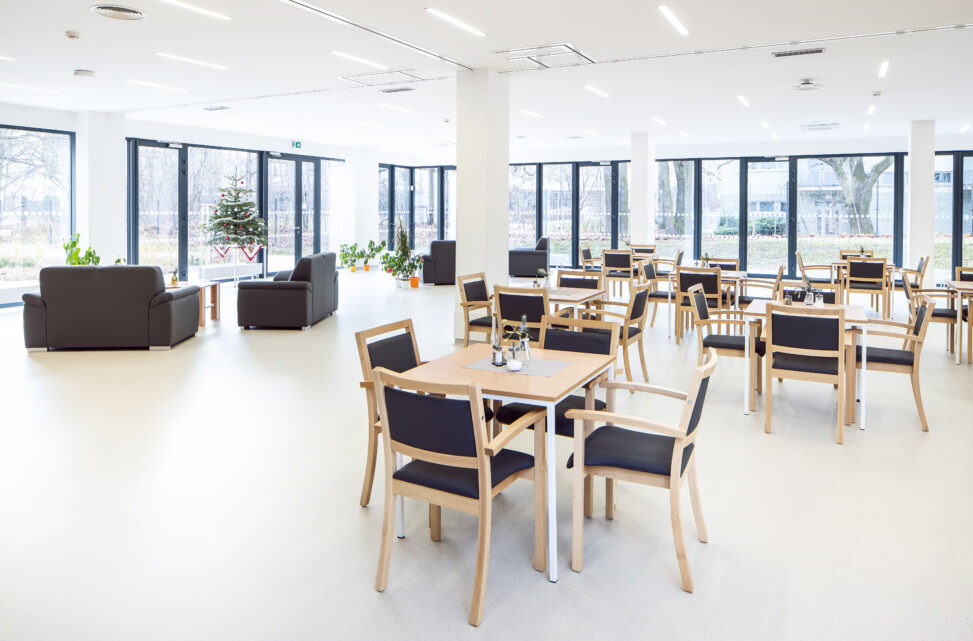 About ALZHEIMER HOME Pardubice
ALZHEIMER HOME Pardubice is located in a quiet part of the city, near Lake Baikal. The common areas, terrace and garden offer clients a variety of places to relax, spend time with loved ones, as well as numerous activities. The centre's interior spaces have been designed in complete harmony with the needs of people with dementia, with plenty of space for gathering, as well as nooks and crannies for peace and privacy.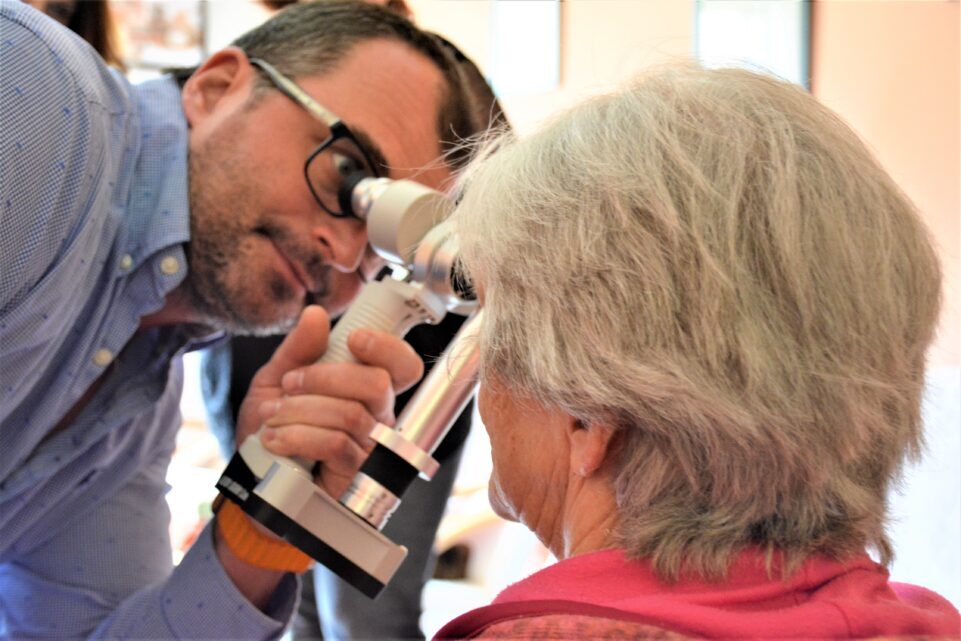 Healthcare
Our clients are provided with quality health services covering basic specialties that help to optimally diagnose and treat all common health problems and prevent them. There is a well-equipped medical department. Wherever possible and practical, clients are thus provided with examinations and outpatient treatment directly at the facility. Our collaborators are top specialists in general practice, psychiatry or other fields. We have a sophisticated system of medical visits and regular preventive checks of the mental and physical condition of our clients. Thanks to this, we are able to catch any change in health status and immediately adjust the medical, nursing and dietary regimen.
ALZHEIMER HOME is part of the Penta Hospitals group. Penta Hospitals operates a network of hospitals and specialist outpatient clinics in the Czech Republic and it is our natural intention to offer our clients and families better and more comprehensive healthcare services in the future with this unique combination. It is for this reason that Ambulance Penta s.r.o. (from the Penta Hospitals group) is gradually becoming a new healthcare provider in our facilities in the field of general general practice and in selected areas of specialised outpatient care.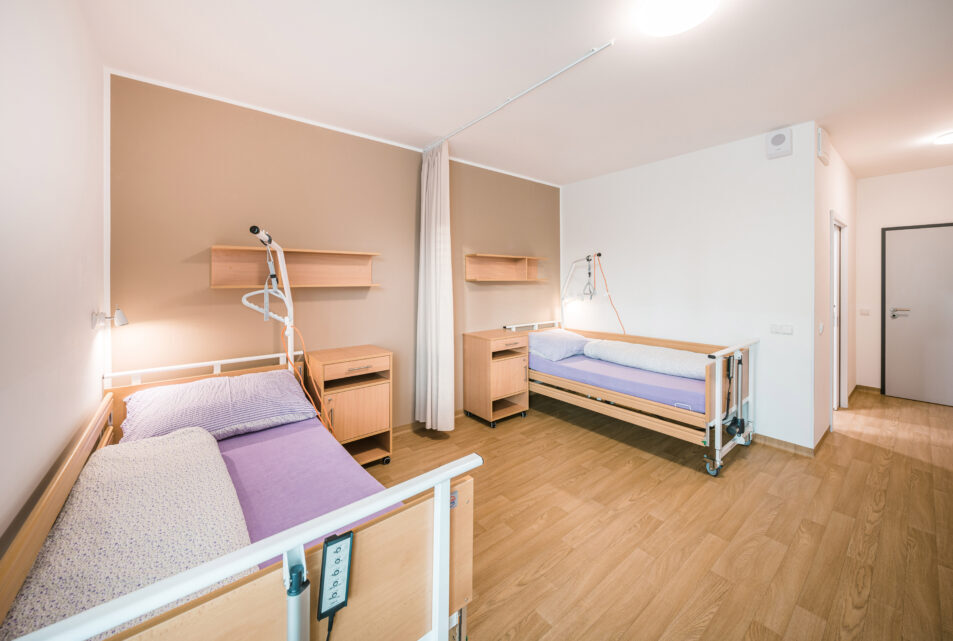 Complete equipment of all rooms
Our clients are accommodated in a pleasant home environment in double rooms with private bathroom. All rooms are fully equipped, yet we offer the possibility of their own retrofitting. The whole area is fully wheelchair accessible.
The capacity of our facility ALZHEIMER HOME Pardubice is 166 beds.
Activation activities
Being active is important at any age. Knowing our habits, interests and personal needs helps us to design a mix of activities to make the day enjoyable and enjoyable. Reminiscence therapy, memory training, music therapy are the cornerstones of activity activities. For activation, there are equipped rooms, a garden, a common room, a spacious dining room or a terrace. Fine and gross motor training aids are used, memory training, art therapy, therapeutic baking and much more.
We do not close ourselves off from the world - quite the opposite: We are visited by musicians, children and students from kindergartens, primary and secondary schools who regularly give performances for us. Our clients are regularly visited by canister therapy dogs. Every month, our center hosts a birthday party, coffee and dessert. The chapel space is used to meet the spiritual needs of our clients. Each month clients have the opportunity to use the services of a hair stylist or pedicurist in the salon.
ALZHEIMER HOME Pardubice
How to become a client
ALZHEIMER HOME Pardubice
Bělehradská 591, 530 09 Pardubice
+ 420 737 810 315
ALZHEIMER HOME Pardubice
References
Hello, I want to thank you very much on behalf of the whole family for the beautiful photos. Also, a HUGE THANK YOU for YOUR CARE AND CARING for your clients. Every time I come to visit my brother I feel a sense of peace and calmness with you, you care for your clients with great dedication and willingness. We all know that your work is very demanding, both physically and mentally. And I would like to thank your whole wonderful team for your work, on behalf of all the family members of your clients, because I have heard nothing but praise for your facility in the past, and I have personally confirmed this in practice.

Olga Simonova

Olga Simonova

Dear Director, social workers, nurses, caregivers... I would like to thank you and the entire staff of the centre for their care and concern for our mother and not only for her. I always thought that I could take care of my mother until the last moment and the decision to place her in your facility was very difficult for me. It's like transplanting an old tree and not knowing if it will wither. She has only been with you for a short time so far and is adjusting very slowly. I know that each patient needs an individual approach and patience. I would like to thank all the staff of the centre, from the cleaners to the nurses, because whoever I met either in person or on the phone, they were all helpful, friendly, smiling, communicative and that is not always the rule in these particularly difficult times. Special thanks to Veronika Lelkova, who on the day of our mother's reception, symbolically on the day of the soul, willingly ran to the car, took our mother by the hand with a smile and led her to the reception room, where everything was done in a friendly spirit. Good health, much personal and professional success in the New Year and much joy and patience in your difficult work. Sincerely, Jiří Veselík and his family

Jiri Veselik

Dear Director, I would like to thank you and all the staff for the care you have given to my father. He was admitted to you after hospitalization in the hospital and subsequent care in the Rybitví LDN. His condition was appropriate. It was not easy for us to make this decision, but Mrs. Murinová, the social worker, was very helpful, explained, showed and, above all, reassured us all. The nurses are helpful, kind, considerate, and you can see that they do their work with their hearts. When my dad had a health problem, the head lady called us immediately and addressed the situation with us. We visit Daddy often and are very happy with the environment and condition he is in now. Thank you all once again for your work, especially for Mummy, for whom this has been very difficult. They praise you so much everywhere. Krupařová Iveta

Kruparova Iveta

I recently completed an internship at your centre. First on the ground floor with client activation and later on the 3rd floor. My hat is off to everyone, whether they are activation workers, caregivers, nurses. Their professional and especially human approach was incredible. I would recommend your centre with a calm heart because I know that they will be really well taken care of here. Thank you for this great opportunity. Pavlína Pešková

Pavlína Pešková

I wish you lots of love on our day, no wrinkles. Lots of strength and especially good luck, no accidents. From the bottom of our hearts, we appreciate your care for Daddy and Grandma. Everyone here, actually. You're amazing. Thank you for everything. M. K. March 2023

M.K.

On the 1st of March, my mother was brought to your centre. I would like to take this opportunity to briefly thank the entire staff for their warm welcome and reception. Mgr. Lelková came to welcome us and her approach was not only professional, but she was incredibly kind and empathetic. Your staff was so kind, so accommodating. They knew that my mom loves sweets, so she got a chocolate croissant to welcome her.:) Thank you for helping mom and us cope through a difficult time. On Friday, the girls talked to her so beautifully, she even had a smile and sparkle in her eyes before she saw me. Thank you so much.

Sonia Vokurkova
ALZHEIMER HOME Pardubice
Virtual tour
ALZHEIMER HOME Pardubice
Documents
Important documents to download.
ALZHEIMER HOME Pardubice
Newsletter
ALZHEIMER HOME Pardubice
Contact
ALZHEIMER HOME Pardubice
Contacts - nurses' station
ALZHEIMER HOME Pardubice
Where to find us