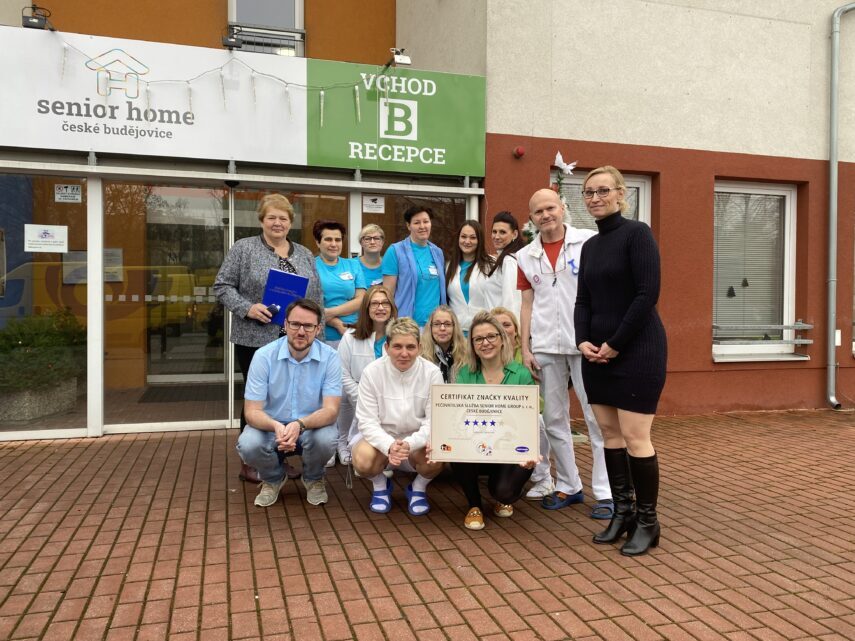 Brand Quality
SENIOR HOME České Budějovice was awarded the Quality Mark in December 2022.
The Quality Mark is awarded by the Association of Social Service Providers of the Czech Republic, a professional organization of social service providers.
It is thus an important feedback from experts in the field. It is very difficult to win the highest possible award, but it is even harder to defend the highest possible award.
The SENIOR HOME České Budějovice team succeeded. The Quality Mark certification - with four stars is valid until 2026.
SENIOR HOME České Budějovice
SENIOR HOME Ceske Budejovice is located in a quiet part of the city, near the Vrbensko Ponds. The garden offers plenty of space for outdoor activities, walks and sitting. Thanks to the diversity of the area, clients do not lose daily contact with everyday life. In addition, the presence of children from the Kulíšek Children's Group has a positive effect on their psyche. Their immediacy and playfulness evokes interest and often a smile on the clients' faces. There is also a general practitioner's office and a well-stocked grocery store. We are a member of the Association of Social Service Providers of the Czech Republic and a certified holder of the Quality Mark in Social Services.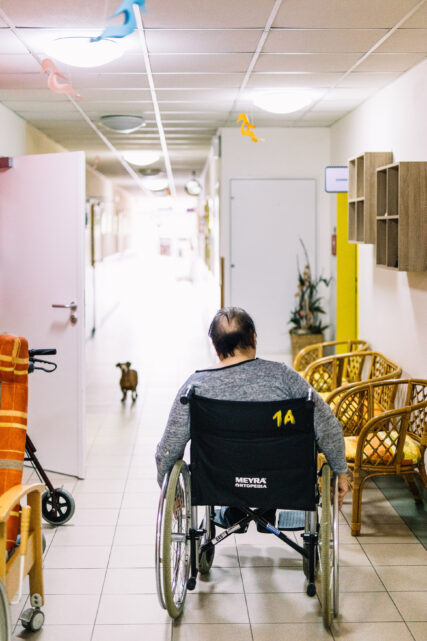 Activation activities
We organize a number of cultural events for our clients - performances of theatre groups, lectures, discussions, musical afternoons, etc. As part of regular activation, sports exercises, yoga lessons and memory training are held. Housing and catering We offer small flats for rent in sizes 1+kk and 2+kk, with the possibility of using the nursing service and home care, in continuous all-day operation.
The family environment brings comfort and security to clients. The facility has a reception (staff 7.00 - 19.00) and additional services (shop). Residents can use the dining room, where classic Czech home cooking is served and where the utmost attention is paid to the preparation of meals. In case of allergies or dietary restrictions, a suitable alternative is always offered. We are happy when clients feel at home. The composition of the menu is prepared by a nutritional therapist, which guarantees its balance.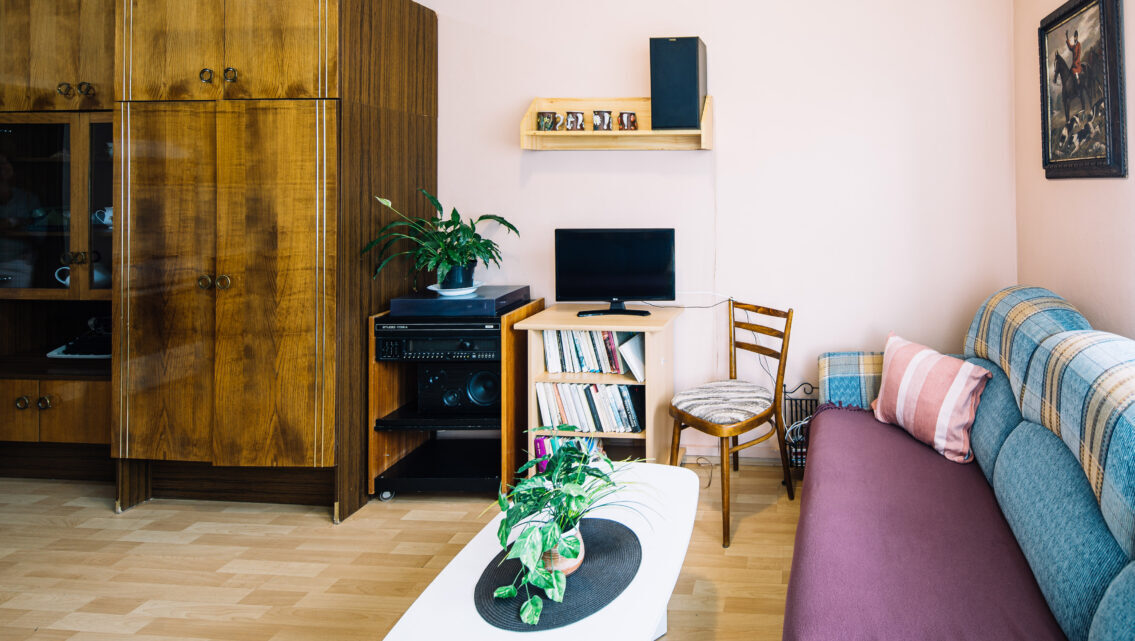 Senior apartments for rent
Senior apartments for rent: For rent we offer apartments 1+kk and 2+kk. Under one roof, seniors get the loving care they need every day.
In the building they can use the services of:
general practitioner
psychiatrist
care services
home care (24-hour availability)
reception services
dining rooms with home cooking
trade
pharmacies (or ordering and delivery options, Dr. Max)
hairdressers and pedicurists (available by appointment)
memory training
participation in cultural events that we regularly organize
Thanks to the diversity of the area, clients do not lose daily contact with everyday life.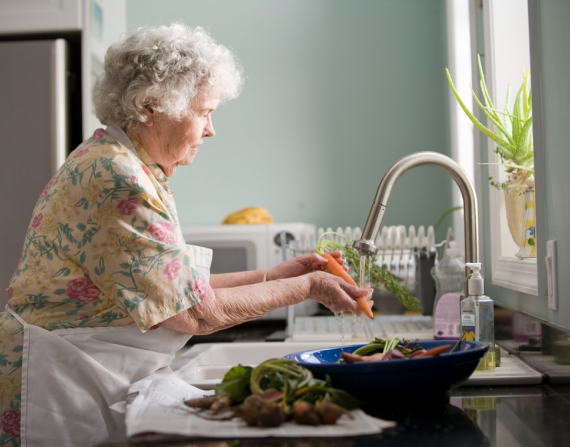 Care services SENIOR HOME GROUP s.r.o
Registered provider of health services - home care and registered provider of social services - nursing services SENIOR HOME GROUP s.r.o., a member of the ALZHEIMER HOME group, provides highly professional care. It thus contributes to the happy and safe management of old age and health problems. Home care nurses are available if the client's health condition requires it. Other needs and wishes of the clients are then catered for by a wide range of other services. As is the case with our residential services, our specialty within home health care and nursing care is the comprehensive care of the elderly and the long-term ill. This is matched by the qualifications of our staff and our state-of-the-art technical equipment.
Home care
Home health care and nursing Home care shortens or replaces a patient's hospital or other institutional care. It is preferred because of its undeniable advantages, in particular its positive effect on the psychological state of the patient. This has been shown to contribute positively to improving the patient's general condition and reducing the risk of complications.
- We will discuss your requirements with you in detail, inform you about the suitability of your care and offer you an individual solution to your or your loved one's health and/or social situation.
- Within the framework of home health care, we come directly to the home on dates and to the extent indicated by the attending physician, but we always pay attention to the wishes and preferences of our clients.
- We provide a high quality and reliable service with a sensitive, friendly and personal approach. - We guarantee the high professional level of our general nurses and the timely and proper performance of indicated procedures.
- Adherence to recommended nursing procedures, code of ethics and lifelong education of medical staff is a matter of course.
- In the case of the provision of care services, we proceed on the basis of a social survey, a needs analysis and the relevant statutory quality standards.
References
Dear Director, I would like to express my thanks and respect to all your staff for their care of my mother Irena. She has been in your facility for the 4th year now, originally she was there with her father who died a year ago. During this painful time, Mrs. Chanigova has been a great support to my mother, who is truly a good angel of your home. Now mum's health has deteriorated rapidly and not only the nurses, but also the caregivers (including Mr. Ludek), take beautiful care of mum with kindness and empathy. Whenever mum needs help, even at night, they rush to her aid. Even in her personal time, Mrs Čanigová is willing to deal with situations that arise, for which she also deserves my thanks. I admire the hard work of all your employees, which is exhausting not only physically but also mentally, and I thank them all very much. Please pass on my thanks not only to your employees, but also to your superiors, because I believe that they should know how well SENIOR HOME in České Budějovice works. Thank you. I.B. (February 2023)

I.B.

Dear Director, I would like to express my gratitude for the great work done by the employees of SENIOR HOME in České Budějovice. Since March of this year, I have had my mother Jiřina D. placed here, who since last February, after the death of her husband of 60 years, was slowly deteriorating and at the same time it was no longer possible for me to manage her care at home, which was becoming increasingly difficult due to her poor health, minimal mobility and lack of mobility. When I learned about the possibility of placing my mother in the Senior Home in ČB, I was very hesitant, feelings of my own failure prevailed. Currently, I am amazed at how within a few months of staying in SH ČB, my mother is changing before my eyes, thanks to the professional and human and loving care of the SENIOR HOME staff. My mother has visibly improved here and has even started to participate in the numerous social activities provided by the centre. The fact that the staff at Senior Home is on a mission is evidenced by the fact that it is not uncommon to meet the senior staff, head nurse Martina Čanigová and social worker Lukáš Schmidt, at the centre during weekend or early evening visits to my mother, which I always go to with complete confidence that she will be well cared for. I highly recommend SENIOR HOME ČB with a clear conscience to my friends who are currently no longer able to care for their parents at home. Please pass on my thanks to all the staff who, under the exemplary leadership of Ms. Chanigova and Mr. Schmidt, are taking excellent and loving care of my mother. Sincerely, JD

J.D.
SENIOR HOME České Budějovice
See what it looks like here
SENIOR HOME České Budějovice
How to become a client
SENIOR HOME České Budějovice
Husova Třída 1651/125A, 370 11 České Budějovice
Social worker
+420 773 377 065
Reception
+420 773 377 066
SENIOR HOME České Budějovice
News and updates
SENIOR HOME České Budějovice
Contact
SENIOR HOME České Budějovice
Contacts - nurses' station
SENIOR HOME České Budějovice
Where to find us