ALZHEIMER HOME Ostrava
ABOUT ALZHEIMER HOME
ALZHEIMER HOME is a unique project to link cutting-edge health and social services in the care of patients with Alzheimer's disease and other types of dementia from the age of 40. Homes across the country are for clients who need the help of another person 24 hours a day, 365 days a year. The mission of ALZHEIMER HOME is to provide comprehensive and individualized residential social services. The professional staff supports the clients' self-sufficiency and active lifestyle, respects their individual habits and preserves their rights and human dignity.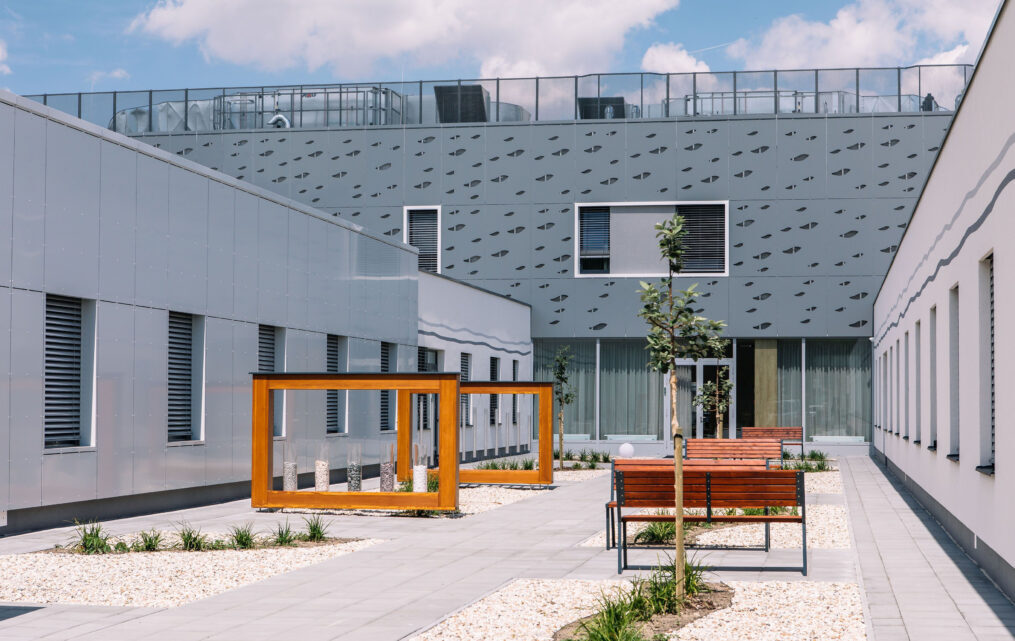 ALZHEIMER HOME Ostrava
ALZHEIMER HOME Ostrava is located in a quiet part of the city with excellent transport accessibility. The modern, recently opened centre meets the demanding requirements for care and at the same time provides clients with a quiet and comfortable living environment. It has been designed in full compliance with the needs of people with dementia, with plenty of space to meet and at the same time with corners for their peace and privacy. The grounds include a large garden with benches, flower cascades and outdoor therapy aids. The garden also includes pergolas, inviting you to sit outdoors in all kinds of weather.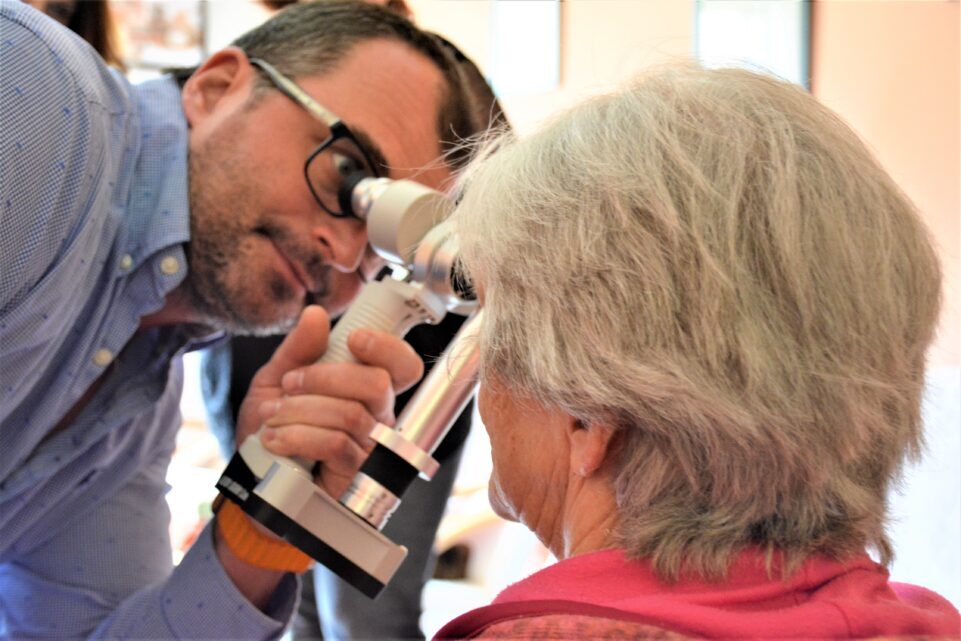 Healthcare
Our clients are provided with quality health services covering basic specialties that help to optimally diagnose and treat all common health problems and prevent them. There is a well-equipped medical department. Wherever possible and practical, clients are thus provided with examinations and outpatient treatment directly at the facility. Our collaborators are top specialists in general practice, psychiatry or other fields. We have a sophisticated system of medical visits and regular preventive checks of the mental and physical condition of our clients. Thanks to this, we are able to catch any change in health status and immediately adjust the medical, nursing and dietary regimen.
ALZHEIMER HOME is part of the Penta Hospitals group. Penta Hospitals operates a network of hospitals and specialist outpatient clinics in the Czech Republic and it is our natural intention to offer our clients and families better and more comprehensive healthcare services in the future with this unique combination. It is for this reason that Ambulance Penta s.r.o. (from the Penta Hospitals group) is gradually becoming a new healthcare provider in our facilities in the field of general general practice and in selected areas of specialised outpatient care.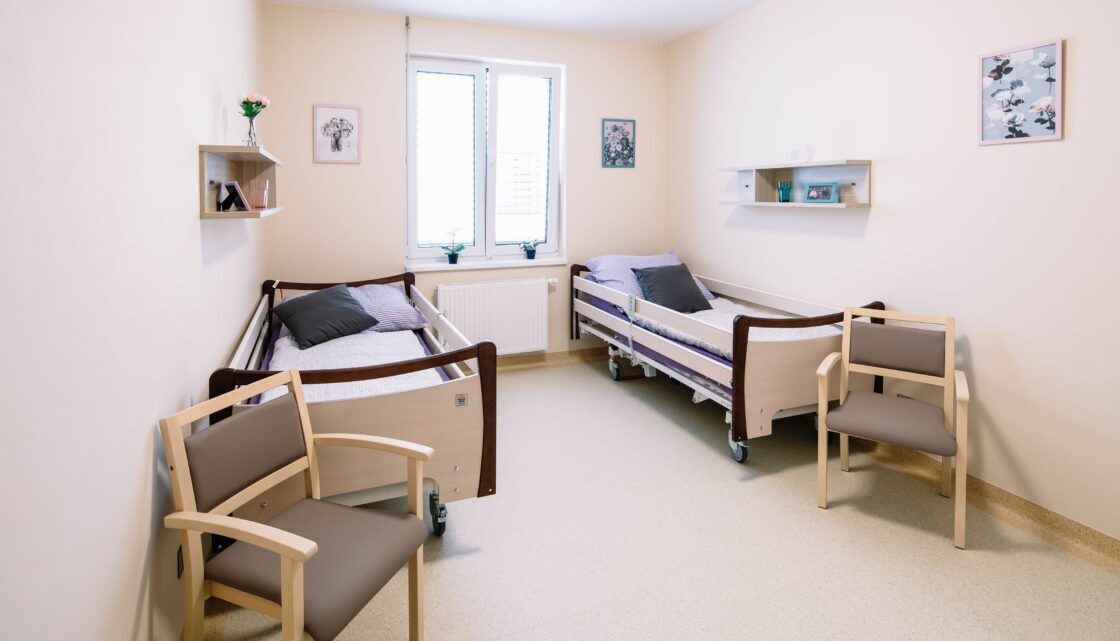 Complete equipment of all rooms
Our clients are accommodated in a pleasant home environment in double rooms with private bathroom. All rooms are fully equipped, yet we offer the possibility of their own retrofitting. The whole area is fully wheelchair accessible. The building is divided into four blocks. These are colour-coded according to the seasons for better orientation of the clients, and the decoration corresponds to each season.
The capacity of our facility ALZHEIMER HOME Ostrava is 132 beds.
Activation activities
Being active is important at any age. We engage our clients daily in a range of activities that are tailored to each individual. Knowing our clients' habits, interests and personal needs helps us to tailor a mix of activities to make their day enjoyable and enjoyable. Our trained staff use a variety of methods and ways of approaching and communicating with the client using basal stimulation and elements of validation.
The cornerstones of the activation activities are reminiscence therapy, memory training and music therapy. Specially equipped rooms for fine and gross motor exercises, aromatherapy, therapeutic cooking and baking are used for activation. Future plans include bubble baths and expanded rehabilitation nursing care. In addition, canister therapy takes place regularly at the centre.
We don't close ourselves off from the world either - quite the opposite: we go on trips and exhibitions, enjoy walks around the area.
ALZHEIMER HOME Ostrava
How to become a client
ALZHEIMER HOME Ostrava
Syllabova 3029/38, 703 00 Ostrava
+420 724 383 772
ALZHEIMER HOME Ostrava
Documents
Important documents to download.
ALZHEIMER HOME Ostrava
Newsletter
References
Hello Mrs. Navrátilová, I would like to thank your centre in Ostrava and especially the staff for the high quality, professional and mainly human work they do in your institute. It has been about two months since you helped us to place my sick father in your home. My father settled in immediately and despite the fact that his health has deteriorated rapidly, he feels safe, at ease and I can say without hesitation that he is completely at home with you. His health, to be precise, had deteriorated rapidly before he came to you. And that is why, after several visits to you, I have seen how my father is being cared for, how he is being cared for and how much help he is receiving from the staff, and I am practically overwhelmed and eternally grateful. I have the opportunity for a great comparison, because I come from a large family and many of my relatives have been in similar institutions for a long time, so I have knowledge of what the different institutions look like and what kind of care they provide. Your institute and your workplace is of the absolute highest standard and the staff show a huge professionalism that I have not seen anywhere else. I do not know how you have done it, Director, but I congratulate you enormously and I am very grateful to you. Every one of my family members, when I take them to see my dad, further proves this to me. So it's not just my words, but it's confirmed over and over again from many of my other family members. > I am incredibly glad that my father was given the opportunity to finish the rest of his life in the most dignified way possible and that he is so well with you. He handled the transition to a new environment much better than I ever expected. > Once again, I would like to say a huge thank you and ask you to share how impressed I am with your service and approach with your staff. > Sincerely, > Tomas Arnold > Son of a daddy with Parkinson's, whom you take such great care of.

Tomas Arnold

Dear Director, I would like to thank all your staff for the excellent care of my mother, Helena. Since she has been in your facility, I am free from worry and fear for my mother and my life is finally back on track. Therefore, I know very well what caring for a person with Alzheimer's disease entails. I appreciate the work of the health care manager, Mrs. Lucie Richter, who manages everything perfectly, and all the nurses. I also appreciate the work of the carers, led by the head of social care, the very kind and helpful Mrs Eliška Jankovičová. The helpful and friendly attitude is omnipresent. And my frequent communication with the excellent social worker Bc. Janička Slováková always assures me that my mother is in the right hands. Sincerely, Zuzana C.

Zuzana C

Dear Director, I would like to thank all your staff for their care of my husband Josef, especially the medical and nursing staff for their approach to clients and the work they do. I wish you all good health and personal well-being. Yours sincerely

K.M. (September 2022)

Dear Director, let me thank the entire team of Alzheimer Home Ostrava for the care of our mother Anna. The care was exemplary, and I admire not only the professional medical care, but also the work of the other employees who care for your clients. They have admirable patience and empathy. I have encountered a welcoming and very friendly environment on every visit to your facility. It is very good that you exist. It is a great help to any family who can no longer manage care. Thank you again and I wish you and the whole team every strength in caring for your clients. OCTOBER 2022

M.C.

You have nice nurses and support staff - food delivery etc., they deserve a big praise .....

V.K.

Hello. many thanks to ALZHEIMER HOME Ostrava. I must not forget to praise the entire staff. May 2023

S.J.

Hello Mr. Director, First of all, I would like to thank you on behalf of the whole family for the very exemplary and professional care of your staff for my husband Jaroslav and Maria. I wish you and all your staff well and thank you in advance on behalf of the whole family. Thank you. May 2023

SH.Z.

Dear Sirs, At a time when my husband's Alzheimer's disease was so advanced that we could no longer care for him at home, you found a place for him. That was in July 2021. Since then, my husband has had the care of his own hygiene, meals, dressing, walks in the company of nurses in the beautiful garden, regular medical care and also immediate intervention by medical professionals after several falls and subsequent accidents and injuries. But most importantly for me and our entire family was knowing that all the nurses, orderlies, and orderlies treated him as their own grandfather. The kindness, the joyful greetings, the conversations with the sick person, all of these visibly comforted and encouraged him at a time when we, his family and loved ones could not be with him. We would also like to thank the social workers for their excellent communication and kindness, who always dealt with all the organisational details quickly and helpfully. For this we are very grateful to all of you. We all also greatly appreciate the spiritual care of the parish priest and the nuns, where they gave out understanding and comfort. The Masses, the Eucharist, the absolution and the last rites - these are sad but at the same time comforting and uplifting moments of saying goodbye to a loved one. We are also grateful that he was not alone and was able to be with the pastor who said his last prayer and the sisters held his hand as he breathed his last. So we thank again and again and are deeply grateful to all the staff at the centre who were able to care for Vladimir with such relationship, understanding, patience and love. Sincerely

Miroslava Moravcová, daughters Kateřina and Martina with their families
ALZHEIMER HOME Ostrava
Contacts (Working hours 7.00 - 15.00)
ALZHEIMER HOME Ostrava
Contacts - nurse's station / INDEPENDENT LINE
ALZHEIMER HOME Ostrava
Where to find us