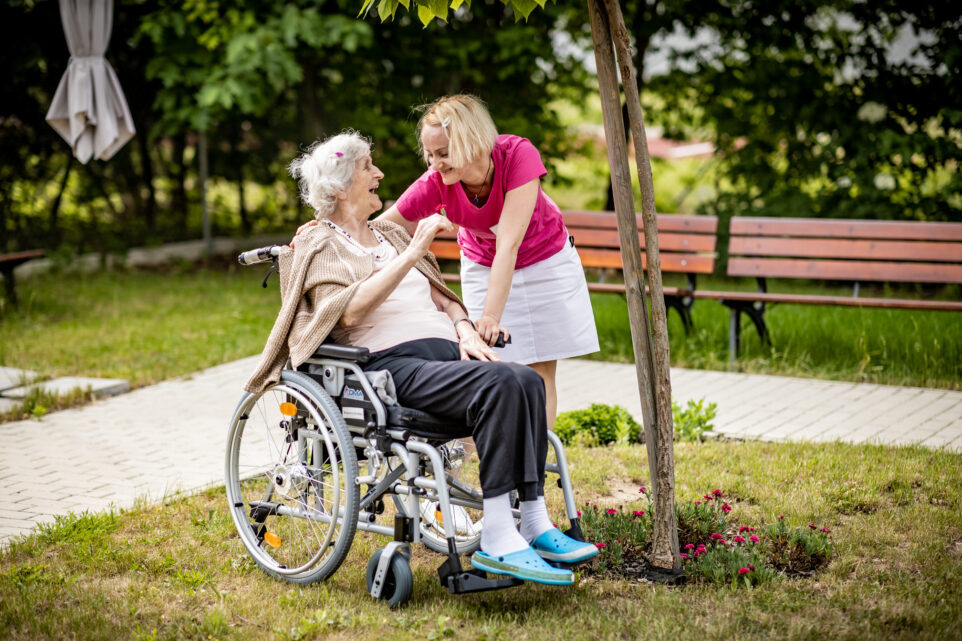 ALZHEIMER HOME
About home
ALZHEIMER HOME is a unique project of linking cutting-edge health and social services in the care of patients with Alzheimer's disease and other types of dementia. Homes across the country are for clients who need the help of another person 24 hours a day, 365 days a year. The mission of ALZHEIMER HOME is to provide comprehensive and individualized residential social services. The professional staff supports the clients' self-sufficiency and active lifestyle, respects their individual habits and preserves their rights and human dignity.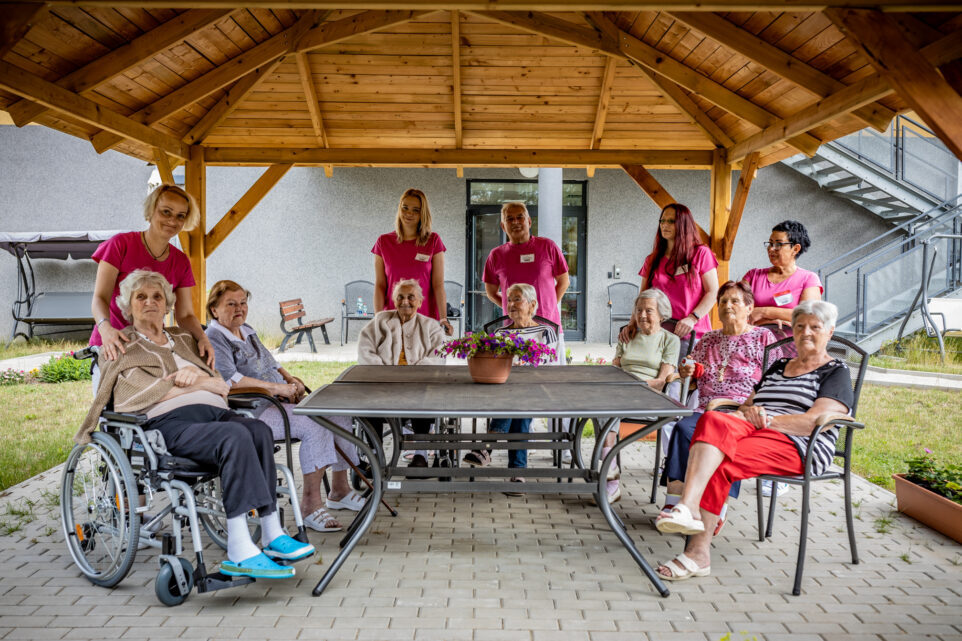 ALZHEIMER HOME Modřany
ALZHEIMER HOME Modřany is located in a very quiet part of town, among family houses, near the recreational area Modřanská rokle. The view of the Vltava valley with Cukrák is also breathtaking. There is a spacious lounge and therapy room with a dining room. The facilities include beautiful terraces and a park for outdoor walks and relaxation with exercise machines for the elderly. The entire facility is, of course, fully wheelchair accessible.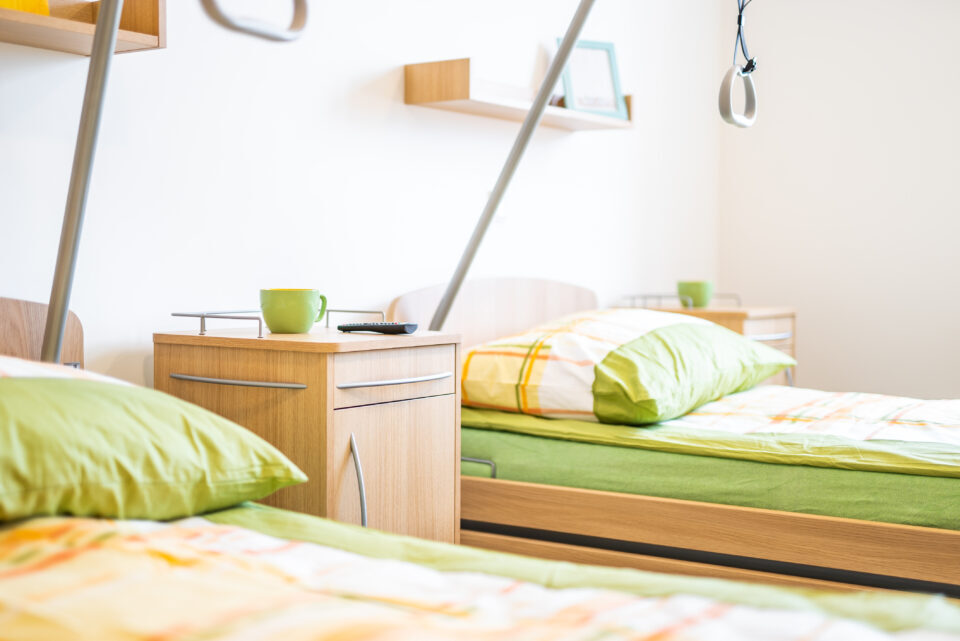 Complete equipment of all rooms
Our clients are accommodated in a pleasant home environment in single and double rooms with private bathroom. All rooms are fully equipped, including a TV set, yet we offer the possibility of their own retrofitting with small items.
The capacity of our facility ALZHEIMER HOME Modřany is 146 beds.
Activation activities
Being active is important at any age. We engage our clients daily in a range of activities that are tailored to each individual. Knowing our clients' habits, interests and personal needs helps us to tailor a mix of activities to make their day enjoyable and enjoyable.
The cornerstones of the activation activities are reminiscence therapy, memory training and music therapy. Specially equipped rooms are also used for activation. We are constantly renovating and are now preparing a new room for therapeutic cooking and baking. The canister therapy is taken care of by Quido, a canine friend who comes to us regularly with his owner.
We are also often visited by children, for example from the nearby Youth Home. They always prepare an interesting program for our clients.
We also have a bus available, so we can go on a trip outside of Prague, which we always enjoy very much.
ALZHEIMER HOME MODŘANY
Video
ALZHEIMER HOME MODŘANY
References
Dear Director, I wanted to thank you very much for allowing me to place my mother in AH Modřany exactly one year ago. I was not sure at the time, but I soon became convinced that even a home can be replaced by a more suitable place for a senior citizen in a certain situation. Health care, company, activities, proper regular meals, hygiene - even with the best will I could not provide my mother with these things. In the home, my mother got used to it within a few weeks and soon miraculously began to recover and blossomed all over again. Unfortunately, her health did not return and she died at Easter. I would like to take this opportunity to express my sincere thanks and praise to the staff who cared for my mother, because they were all really kind, caring, helpful and did their best for the other grandmothers. In particular, I must appreciate at least the always helpful social worker Mrs. Mlynaříková, the empathetic head of health care Mrs. Mlynaříková, and the very kind mother. Neuberová and the helpful head nurse Mrs. Mlynařková. Podana, who, especially in the last few weeks, tried to make my mother as comfortable as possible. Thanks to you and the wonderful attitude of the Modřany nurses, I am sure that nothing better could have been done for my mother at the end of her life. I wish you many happy seniors and their families and only the best. Sincerely, Zuzana Conková

Zuzana Conková

The client's daughter

Dear Director, Once again, thank you so much for your care and for making your facility work so well. My mother spent 5 years with you and my brother and I were always very pleased with your attitude and care. Even though Mom has communicated very little especially in the last 2 years, she always seemed happy and was always well groomed. It was especially nice when we could always take her out to the ponds in the summer months in a borrowed wheelchair. I bow deeply to your work and wish you many more happy and grateful clients and especially much strength and empathy.

Ing. Pavel Fučík

Dear Director, I would like to thank you and your staff for taking care of my mother with care and love in the 5th floor. I saw her right after her return from hospitalization and monitored her condition in the hospital and saw how her mental state changed rapidly for the worse during her hospitalization. I was pleased to see that it was not just me that was concerned, but that the nurses and caregivers at your facility were also caught off guard and tried to give her quality and loving care right away to improve. Again, I realized that your staff truly loves your clients and I thank you so much for this and for caring for my mother. Sincerely, Zuzana Smetanová

Zuzana Smetanová

Dear Director, I would like to express my thanks for myself and the whole family for the care of my father, who has been in the care of AH Modřany for almost a year. We have been in contact with my father every day, so we have had the opportunity to get to know the system of client care and the overall atmosphere of the facility very well. With great gratitude I can confirm that the nurses' approach to the clients is really in the spirit of your motto: "With love - like at home". In particular, I would like to underline the optimistic and energetic, yet very friendly and human approach of the nurses from the 4th floor, Mrs. Maria Ulenec, Irina Bodnar and Valentina Cekot. Dad's mental capacity is already so weakened that the only thing he knows well and what determines his feelings and mood are the emotions he can read on the faces of the nurses. If he sees smiles, he is happy too. And I can say that Daddy is happy with you. I can't tell you how grateful the whole family is, so I wanted to say a big thank you to your home and all the caregivers. Best regards and wishing that the joy of working for the needy never leaves you and all the caregivers, RNDr. Daniela Vejražková, Ph.D.

Daniela Vejražková

Hello, I would like to thank not only the management of this facility, but also all the employees who always approach their clients with an understanding, kind approach. I would like to wish my husband to be able to take advantage of his health. condition to spend as much time as possible in a home environment, if possible. Once again, thank you very much for your care, with which I was very satisfied. Sincerely, Dana Říhová

Dana Říhová

Hello, I wanted to thank you very much for the help and care you give to our mother. We would like to thank all the staff - nurses, nurses and support staff for all the help they gave to our loved one. We appreciate your help and care. Have a nice day Alena Švejdová and her family

Švejdová

Hello, Director, I would like to express a big thank you to you and your staff for taking care of my mother. I have been a client of this facility from the very beginning and have always been very satisfied with the attitude of all the staff, everywhere clean, my mom clean and fine whenever I came in. So I never had any reservations and I am glad that she was able to live the rest of her life in decent conditions and among nice people. Thank you again, with regards MUDr. Eva Tillmannová

Eva Tillmannová

Dear Director, let me take this opportunity to express not only my great thanks, but above all my great admiration and respect for all the employees of Alzheimer Horne Modřany. Thanks to the environment, and especially thanks to the professional attitude of all the staff, empathy and above all humanity, my dad spent the last moments of his life in dignified conditions. This enabled me to never regret entrusting my dad to the care of your facility, as it was for a long time unacceptable for me to entrust my dad to someone else's care. During my visits to my father, I had the opportunity to see and get to know the demanding work of your staff in caring for such a vulnerable target group as the elderly or people affected by dementia. I also gained experience of the boundless patience and helpfulness towards the relatives of the clients. I can myself attest to the immense patience and willingness on the part of all your staff to answer all the questions I put to them. They have also been able to be a moral support in crisis situations. It is a pity that work in the helping professions is still undervalued. Yours sincerely PhDr. Ivana Davidová OCTOBER 2022

Ivana Davidová
ALZHEIMER HOME MODŘANY
How to become a client
ALZHEIMER HOME Modřany
Herrmannova ul. 2223/26 143 00 Prague 4 - Modřany
Partners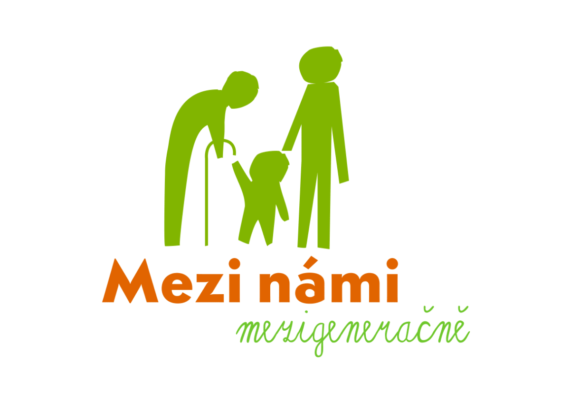 ALZHEIMER HOME MODŘANY
Documents
Important documents to download.
ALZHEIMER HOME Modřany
Contact
ALZHEIMER HOME Modřany
Contacts - nurses' station
ALZHEIMER HOME MODŘANY
Where to find us